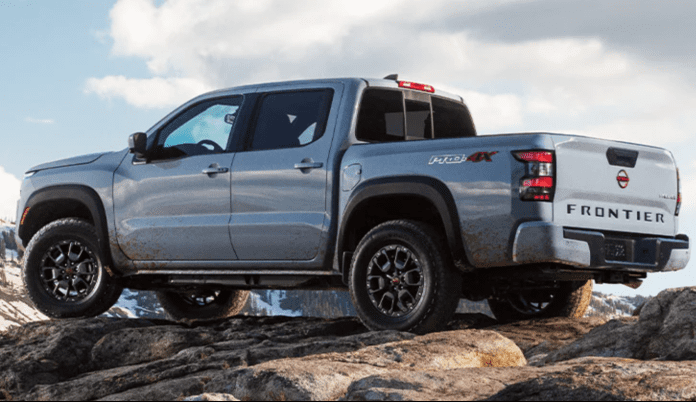 Here is one of the things I like about the $39,000 2023 Nissan Frontier Pro-X Crew Cab 4×4.
The Frontier PRO-4X is trail-ready, right off the showroom floor, with enough built-in capability to explore radical terrain and get you to your favorite spots. With Frontier's excellent 4×4 platform as a starting point, the PRO-4X extends capability with technology, engineering, style and grit.
Inside the cabin, you get your very own virtual spotter that shows a virtual composite bird's-eye view of some of the obstacles in your path for more confident off-roading.
When the trail gets rough, the off-road gauges of the PRO-4X keep track of pitch, roll, and also key off-road functions, such as 4×4 engagement and differential lock status, for a safer, more confident day on the trail. Nissan provides you with great visuals to make understanding all the data easy.
The truck delivers 17 miles per gallon in the city and 22 miles per gallon on the highway, for a combined 19 miles per gallon. This performance is achieved on a 310 horsepower, 3.8 liter V6 engine.
Here is another great thing, which takes the worry out of your ride: PRO-4X armors its points of vulnerability underneath, protecting the engine, oil pan, transfer case and fuel tank from rocks and trail debris to give you the confidence to go farther and explore more.
Bilstein shocks are optimized for rough terrains, making it easier to conquer ruts and rocks with confidence.
The PRO-4X comes standard with all-terrain tires with an aggressive tread pattern made to hook in a variety of surfaces and withstand thousands of miles of work. When 4×4 isn't enough, the electronic locking rear differential delivers equal power to both rear wheels, boosting traction to help keep you moving forward.
I always look to the branding to figure out the heads of the engineers and the marketing team. There are lots of trucks on the market and in the streets, so you want to standout. In this area, Nissan came through with stylish logos and Lava Red accents throughout the interior and exterior, making the PRO-4X unmistakable.
For me, the 2023 Nissan Frontier Pro-X Crew Cab 4×4 is a great performer that looks fantastic on the road. It will get you where you want to go no matter the terrain. Give it a drive.
About Us:
For more Miami community news, look no further than Miami Community Newspapers. This Miami online newspaper covers a variety of topics about the local community and beyond. Miami's Community Newspapers offers daily news, online resources, podcasts and other multimedia content to keep readers informed. With topics ranging from local news to community events, Miami's Community Newspapers is the ideal source for staying up to date with the latest news and happenings in the area. Additionally, the newspaper has exclusive Miami community podcasts, providing listeners with an in-depth look into Miami's culture. Whether you're looking for local Miami news, or podcasts about the community, Miami's Community Newspapers has you covered.