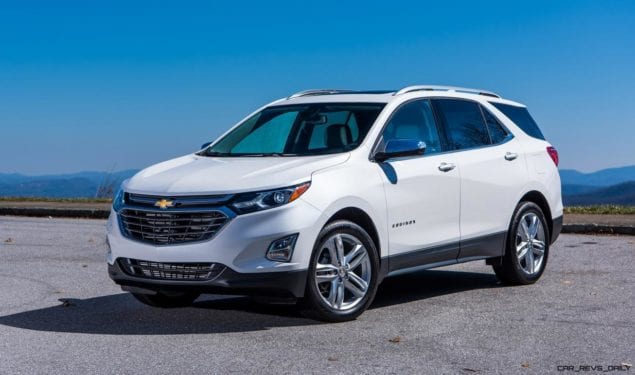 The all-new 2018 Equinox has been downsized from previous years' models — and with admirable results.
Chevrolet cut the vehicle's weight by hundreds of pounds and shortened it by about five inches. Presto, this vehicle is now transformed into a more effective industry competitor.
During my test drive of the Equinox AWD Premier 2.0T, it was clear this vehicle has seen a major improvement in agility and spunk over past models. The ride is smooth, thanks to a nine-speed automatic transmission, good suspension, and comfy powered seats with lumbar support.
While some buyers might opt for the base engine, a turbocharged 1.5-liter inline-four with 170 horsepower, I'd opt for the extra kick of the 2.0-liter turbo DOHC four-cylinder W/WT, which was my test model's engine. Given the need for good defensive driving in Miami, this engine's output of 252 horsepower at 5,500 rpm and 260 pound feet of torque at 2,500 rpm seemed just about the right power for a smaller SUV navigating in urban traffic.
Practicality doesn't necessarily mean "boring." My Equinox was visually appealing with its vivid Cajun Red Tintcoat, a black interior, and power sunroof. Plus, the manufacturer's fresh styling delivered enhanced curb appeal — again, something not found in the older Equinox models. Most notably, the headlights no longer encroach into the hood area and the 2018 Equinox has a higher, wider grill with active shutters. Its front track is a bit narrower, while the rear track is a bit wider.
If buyers are Chevy enthusiasts, they likely will appreciate that this redesigned Equinox more closely aligns with other models in the manufacturer's fleet portfolio. Surprisingly, while the car is now lighter and shorter (a plus for fuel efficiency), the passenger and cargo space for the 2018 model is nearly the same as what those larger predecessors offered.
When it is time to rock or rap, the Bose premium seven-speaker system takes it up a notch and pumps out high-quality sound. I also appreciated Equinox's new eight-inch dash-imbedded diagonal screen with a plethora of techie bells and whistles including select Bluetooth streaming and both Apple Carplay and Android Auto capabilities.
Smartphone integration is easy, riders can plug into multiple USB ports or a 120-volt AC outlet, and there's an inductive charging pad for tablets or other techie toys. But alas, purists who prefer things the good ole fashioned way will still find manual controls for the radio and HVAC system.
When it is time to haul boxes or equipment, drivers simply hit release levers to drop backrests and move the seat cushions both down and forward. That creates an almost level floor that aligns with the cargo area. Surprise? A handy bonus storage space is located beneath the rear floor panel.
On the safety front, our test Equinox was equipped with OnStar, a multitude of air bags, anti-lock brakes, Stabilitrak (a stability control system with traction control), rear park assist, and a zillion other safety perks. It also received four or five stars (with five as the top rating) in National Highway Traffic Safety Administration tests.
The 2018 Equinox AWD Premier 2.OT posts EPA fuel ratings of 22 mpg in the city and 28 mpg on the highway.
Sticker-wise, the MSRP is $37,230, but my amenity-laden test vehicle was priced at $43,050 with the extras. Overall, the redesigned Equinox "shines" in many ways, most notably our test model's new styling and agility.
Grant Miller is the publisher of Miami's Community Newspapers. He may be contacted by calling 305-662-2277 or via email at Grant@CommunityNewspapers.com.