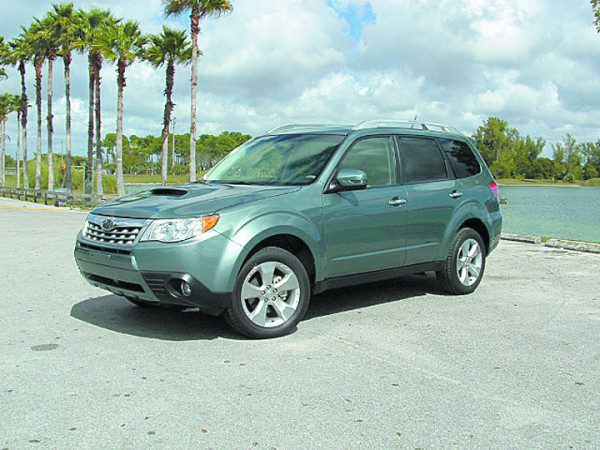 By Ron Beasley….
I like the 2011 Subaru Forester. It's a compact SUV competing in the same class with the Honda CR-V, Toyota RAV4 and others. It's stable and rugged in off-road traveling and it has an excellent all-wheel-drive system that eases the going in tougher driving situations.
The Forester's all-wheel-drive system is standard and it really does give the vehicle excellent traction and handling in bad weather, and it's well equipped with safety features. Forester was named a Top Safety Pick by the Insurance Institute for Highway Safety after getting a five-star rating in all government crash tests and a four-star rating for rollover resistance.
Forester was introduced as an all-new model in 2009 after being redesigned to give it a wider track, a longer wheelbase, a double wishbone rear suspension, more cargo space and more rear-seat legroom. It's classified as a "crossover" vehicle, one with a car-based chassis that has been designed to deliver good handling and good fuel economy. The Forester is slightly longer than Honda's CR-V and a little shorter than Toyota's RAV4.
The Forester XT has a distinctive functional hood scoop, five-spoke 17-inch alloy wheels, a chrome-tipped dual exhaust and a spoiler that juts over the rear window.
On the inside, the cabin is nicely designed and the seats are comfortable, while driver visibility is excellent from all angles. The center stack has faux aluminum trim and holds the climate and audio controls. The center console is deep and slides forward four inches to provide an armrest.
The rear seats are split 60/40 and fold flat to yield a huge 68.3-cubic-foot cargo area (33.5 cubic feet with the rear seat up). The rear seat also reclines and there's a retractable center tray with fixed cup holders.
For 2011, there's a long list of improvements, including an all-new engine for the base 2.5X models (the 2.5XT keeps the same turbocharged 224 hp twin cam engine). The new engine has a slightly longer stroke and a slightly larger displacement, and a chain-driven double overhead cam (it was a belt-driven single overhead cam before). The horsepower is the same at 170, but torque is higher at 174 pounds-feet at 4,100 rpm and fuel economy is improved to 21/27 mpg for either manual or automatic transmission.
Forester 2.5XT models now include 2.5XT Premium and 2.5XT Touring, with the the Touring model replacing the 2.5XT Limited as the top Forester model. Pricing ranges from $21,220 for the base model to $29,020 for the 2.5X Touring.
Ron Beasley is the automotive editor for Miami's Community Newspapers. He may be contacted by calling 305-662-2277, ext. 261, or by addressing email correspondence to LetsTalkCars@aol.com.