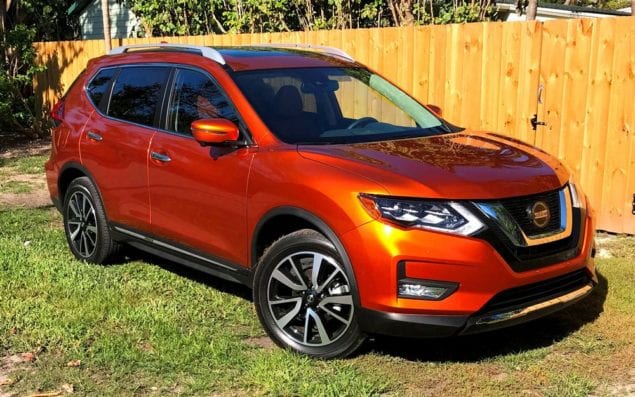 Before I start talking about why I absolutely love the 2018 Nissan Rogue SL and all its amazing new "Intelligent Mobility" features like the ProPilot Assist package, I have one question.
Why brand a car as a "rogue?" Well, perhaps because, according to one definition, a rogue "varies markedly from the standard," and can be "fun-loving and mischievous."
Cool! I like that one.
New features for 2018 Rogue crossover include ProPilot Assist as an available option, a semi-autonomous system than can self-accelerate, brake and steer the car in certain conditions, such as dense highway traffic. Of course, drivers still need to stay alert and be prepared to take control if necessary.
Also new on the list for 2018 is NissanConnect featuring Apple CarPlay and Android Auto as standard, as well as adaptive cruise control, lane-departure warning, lane departure assist, and automatic emergency braking with pedestrian detection — now all standard on the SL, the model I drove.
A step above the base Rogue S and the Rogue SV trim levels, my SL had leather front seats, a Bose audio system, NissanConnect with navigation, a 7.0-inch touchscreen display, a surround-view camera system, 18-inch wheels, and automatic high beams.
The 2018 Rogue is powered by a 170-hp 2.5-liter I-4 with 175 pound-feet of torque. The engine gets an EPA-rated fuel economy of 26/33 mpg city/highway with front-wheel drive and 25/32 mpg with all-wheel drive. These figures are excellent for the class.
Inside, there is a lot to like. Cabin and seat comfort are excellent, as are cargo space and utility. The Rogue's ability to seat up to seven passengers gives it a notable advantage among compact crossovers, and its upscale interior materials and design give the cabin a classy feel.
On the road, the engine has adequate low-end torque right off the line. Also, braking is good, and while its steering effort is fairly heavy, it is something to consider if you prefer a highly assisted wheel that is easy to turn. There is a good feel for the road at moderate speeds, and overall it handles well enough to make the driver feel confident in its abilities.
Off-road, the Rogue offers more hardware for light off-roading than most of its competition. The all-wheel-drive model includes a locking center differential, hill descent control, and brake-lock differentials front and rear.
The Rogue S starts at a price of $24,680 and by the time you move up to an all-wheel-drive SL you are at $32,410. After adding in the power panoramic moonroof and LED lights offered in the Premium Package, and all the features in the Platinum Package, and the price can top out at $36,000.
The Rogue is totally enticing, so it is not surprising to me that this is Nissan's new sales darling — and one of the most popular vehicles in its class. If you want a comfortable and upscale compact SUV for everyday driving, the Rogue is an excellent choice.
Grant Miller is the publisher of Miami's Community Newspapers. He may be contacted by calling 305-662-2277 or via email at Grant@CommunityNewspapers.com.