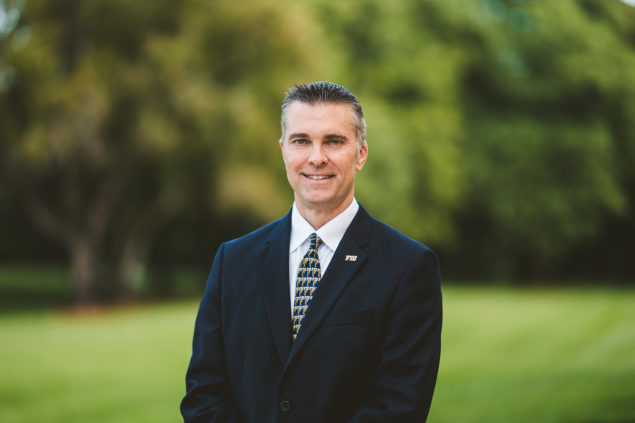 Scott Carr has been named Florida International University's new athletic director. Carr comes to FIU from the University of Central Florida where he has served as deputy and interim athletic director.
Carr, 49, who will join FIU on Dec. 1, brings 25 years of experience in intercollegiate athletics. Prior to arriving at UCF, Carr served as senior associate athletic director for external affairs at Auburn University. He also held positions at the University of Southern Mississippi and the FedEx Orange Bowl.
A native of Gainesville, Florida, Carr earned a bachelor's degree in business management from the University of Florida in 1995 and a master's degree in sports management in 1997.
"Scott has a track record of helping student-athletes succeed on and off the field," said FIU President Mark B. Rosenberg. "We are committed to supporting our Athletic department to ensure FIU competes at the highest levels of intercollegiate athletics. Scott is the right leader for FIU Athletics at this time in the history of our program."
FIU Athletics has had many successes in the past few years: The football team played in three bowl games, the swimming and diving team won seven consecutive Conference USA championships and the men's basketball team is on its way to its third winning season in the last four years. This fall, the men's soccer team defeated the No. 1-ranked team in the nation and became Conference USA regular season champions.
Off the field, student-athletes posted an overall GPA of 3.0 or better in 12 straight semesters and all the seniors on the 2021 football team graduated on time. Comprised of more than 450 student-athletes, FIU Athletics competes in 17 Division I sports.
"My family and I couldn't be more excited to join the FIU family and serve as your next Director of Athletics," Carr said. "I see the tremendous opportunities to grow FIU Athletics. We have an outstanding academic institution, a large, energetic student body, tremendous staff, coaches and student-athletes, passionate alumni and we're located in a phenomenal city. I can't wait to get started!"
"Athletics is a central piece to the dynamic, high-achieving university FIU has become," said FIU Board of Trustees Chair Dean C. Colson. "We are confident that under Carr's leadership our Panthers will thrive and match their academic success with countless achievements on the court, in the field and in the pool."
Carr succeeds interim athletic director Heath Glick, who has led the program while a national search was conducted for a new athletic director.
Carr will hold a press conference at 3 p.m. on Wednesday, Dec. 1, at the Graham Center Pit at FIU's main campus.