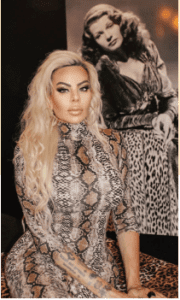 Blanky Haddad, CEO of the Forever Young Skin & Hair Spas, currently owns and operates 6 spa locations in South Florida. A tireless executive and entrepreneur, Blanky manages a staff of 90 employees. An incredibly beautiful, bright, hard working and creative individual, Blanky has developed her own hair line and nail products that make her spas unique.
Aside from her product line, Blanky's Forever Young Spas are well regarded in the Miami area for all their services. Blanky shares, "By offering special hours that make treatments affordable and time convenient, we strive to give our clients great customer service & excellence when it comes to pampering and making each one look and feel fabulous!"
Blanky's superior nail products last longer than any other. She formulated a gel topcoat more than 10 years ago that lasts two weeks or more while protecting the nail bed and promoting growth.
At Forever Young Skin & Hair Spas, it only takes one visit to become a fan of Blanky and her spas' quality products, services and experienced technicians. Follow Forever Young Skin & Hair Spa's Instagram for ongoing specials.
ABOUT US:
For more Miami community news, look no further than Miami Community Newspapers. This Miami online group of newspapers covers a variety of topics about the local community and beyond. Miami's Community Newspapers offers daily news, online resources, podcasts and other multimedia content to keep readers informed. With topics ranging from local news to community events, Miami's Community Newspapers is the ideal source for staying up to date with the latest news and happenings in the area. 
This family-owned media company publishes more than a dozen neighborhood publications, magazines, special sections on their websites, newsletters, as well as distributing them in print throughout Miami Dade County from Aventura, Sunny Isles Beach, Miami Beach, Coral Gables, Brickell, Coconut Grove, Pinecrest, South Miami, Kendall, Palmetto Bay, Cutler Bay and Homestead. Each online publication and print editions provide comprehensive coverage of local news, events, business updates, lifestyle features, and local initiatives within its respective community.
Additionally, the newspaper has exclusive Miami community podcasts, providing listeners with an in-depth look into Miami's culture. Whether you're looking for local Miami news, or podcasts, Miami's Community Newspapers has you covered. For more information, be sure to check out: https://communitynewspapers.com.
If you have any questions, feel free to email Michael@communitynewspapers.com or Grant@communitynewspapers.com.