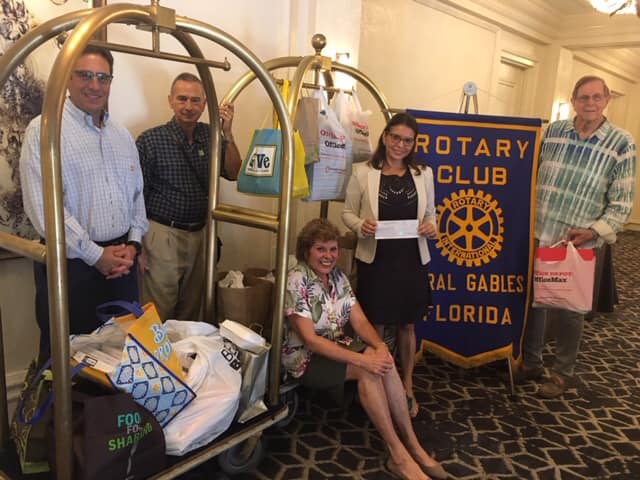 The Coral Gables Bar Association and the Rotary Club of Coral Gables started to join forces to hold mini fundraisers on the second Wednesdays of each month. Held at at various venues in the Gables, the hosts generally provide a complimentary drink and appetizers with happy hour prices for additional drinks.
The two groups convened on Aug. 14 at Galiano Cigar Room. This is a lovely venue and, for a non-smoker who hates smoke, the ventilation system is so amazing that the smoke never penetrated anyone's hair or clothes.
Among the many enjoying the event were two relatively new County Court judges — Robert Watson and Zachary James. Of course there were many other attorneys and Rotarians including several Rotary past presidents: Frank Sexton, former Gables Mayor Don Slesnick, Walter Alvarez and RCCG's oresident-rlect Kelly Garces as well as lots of attorneys.
Gables Rotarian Humberto Comellas is chairing this year's Walk to End Alzheimer's with support from yet another Rotarian, Nicolas Eterovic, who represents the National Presenting Sponsor Edgar Jones. This organization always is helping the community and recently collected school supplies for the 157 kids at Chapman partnership. They filled three carts with $600 worth of school supplies and also collected another $1,200 from members that was matched by the club's foundation to fill backpacks for the children.
This very active group of men and women who believe in Rotary's motto of "Service Above Self." They meet at the Hyatt Regency Coral Gables at noon every Thursday (except on any fifth Thursday in a month) with a lineup of great speakers. Lunch is $29 and visiting Rotarian always are welcomed.
Recently the club honored Rotarian Jack Witty. Jack was recognized officially as the member of the Rotary Club of Coral Gables with the longest record for perfect attendance — 59 years — surpassing the record set by the late Cleve Allen. That record is going to be hard to beat.
On the topic of great service clubs, the GFWC Coral Gables Woman's Club, like Rotary, also is on board to support the Alzheimer's Association. On Sept. 10, the monthly Gringo Bingo, hosted by Clutch Burger, will support the Walk and field a team. For those unfamiliar with this monthly CGWC event at Clutch Burger, this is not just any bingo and Clutch Burger owner Steven Bradley is not just any Gringo.
This funny man entertains with his buddy, celebrity DJ Germain, who also donates his time and music. Thanks to Gringo Bingo, CGWC is able to increase community support for numerous charity programs including the Coral Gables Children's Dental Clinic which they own and operate. provides free dental care for children who fall between the cracks in our healthcare system. Last year alone they treated 600 patients and provided more than $240,000 in free services.
The fun and games run from 7 to 9 p.m. Tickets for Gringo Bingo are $35 and include a slider, Clutch Fries and a specialty drink or unlimited soft drinks, 6 game cards and great prizes. Seating is limited; so, email early to reserve space, gloria@cnews.net.
By the way, the Coral Gables Woman's Club welcomes women who want to get involved in volunteering to join them. They meet the first and third Wednesday of each month at 6:30 p.m. in their historic clubhouse, 1001-09 East Ponce de Leon Blvd. For information, visit gfwccoralgableswomansclub.org.
Finally, the Junior Orange Bowl Committee is holding a Royal Ambassador Fashion Show on Oct. 13, 3 p.m., at The Biltmore Hotel. Tickets for fashion show and luncheon are $45 for children and $65 for adults. NOTE: Girls ages 9-16 may actually walk the runway for $30 and have a chance to be selected as a JOBC Royal Ambassador. This is a great program for any young woman and the JOBC is to be congratulated for creating this new program. For more information visit www.jrorangebowl.org/
Until next time, keep making each day count.