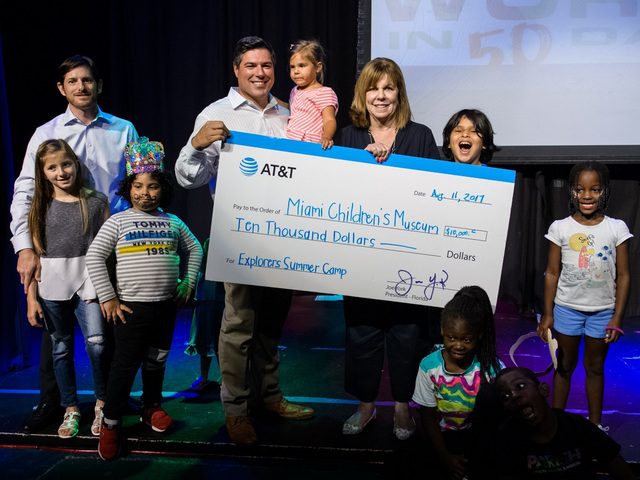 AT&T has provided a $10,000 grant to support the Miami Children's Museum's (MCM) summer camp scholarships.
The grant will provide children with the opportunity to attend MCM's Explorers Summer Camp, where campers will experience different global destinations and develop new skills through fun and unique art activities, dance, cooking and field trips.
Each week, campers will explore a different area of the world through interactive stories, hands-on projects, performances, and more. Campers will participate in fun and unique activities that support literacy, health/ nutrition, art, music and creative thinking skills.
Complementing the museum's weekly themes, campers will explore the museum's galleries, as well as participate in off-site field trips to fully immerse them in the culture, art, food and music of each destination on their summer journey.
"Thanks to supporters like AT&T, the museum can provide its immersive arts-based summer camp to children in our South Florida community that would otherwise not be able to attend" said Deborah Spiegelman, CEO/executive director for MCM.
"Our families depend heavily on new emerging technologies to make their lives faster and more efficient" said Alex Dominguez, AT&T Florida director "AT&T's is proud to support the Miami Children's Museum programs that take these new technologies and help integrate them into our daily lives."
The Miami Children's Museum (MCM) offers bilingual and interactive exhibits; programs and classes and learning materials related to arts, culture, community and communication. There are 14 interactive galleries as well as many exciting and fun traveling exhibits. Miami Children's Museum is dedicated to enriching the lives of all children by fostering a love of learning and enabling children to realize their highest potential. Through arts and educational programs, MCM seeks to include and target all audiences in Miami's changing and diverse community by becoming the "town center" for Miami-Dade County's children and families.