BREAKTHROUGH MIAMI'S NEW CEO
LORI-ANN COX
Breakthrough Miami recently announced that it has named one of South Florida's top advancement and external relations leaders, Lori-Ann Cox, as its new CEO. Cox joins Breakthrough Miami with more than 20 years in the education management industry taking on a variety of roles. Most recently, she served as executive director of External Affairs at Gulliver, one of South Florida's leading PK3-12 private, non-profit, independent, coeducational, nonsectarian day schools. Lori-Ann is a visionary leader whose deep connections to the South Florida community, along with her knowledge and passion in the field of education and community relations will be instrumental in furthering the efforts of our organization.
AUTOMOTIVE INDUSTRY
MILES CHARLTON
After graduating from Florida International University with focus in International Business, Miles Charlton was hired as Marketing Coordinator for Bill Ussery Motors, Inc. In this capacity, Miles had the opportunity to learn under Marketing Director, Nicole Waters. His responsibilities included; handling social media presence, collaborating with event planners and generate excitement for the brand. After a year, Miles joined the sales department as a Product Concierge and assisted customers with their newly purchased Mercedes-Benz vehicles. After 18 months, Miles was then given the opportunity to become smart Brand Manager, and is now responsible for everything smart car. This includes sales, marketing and dissemination of brand information. According to Miles, "I'm grateful to be working in an environment that promotes personal development and professional growth."
GREATER MIAMI JEWISH FEDERATION
JEFFREY SCHECK
The Greater Miami Jewish Federation has elected Jeffrey Scheck to serve as chair of the Board of Directors. Scheck served the Greater Miami Jewish Federation during the past two years as vice chair of the board of directors and general campaign chair, and was a leader of Federation's 2018 Israel at 70 Miami Mission. He previously served on Federation's Executive Committee as Major Gifts chair and chair of The Foundation of the Greater Miami Jewish Federation. He also has been a member of Federation's Administrative, Audit and Financial Management committees. Scheck is also chair of Aventura Hospital, where he previously served as vice chair and a board of trustees member.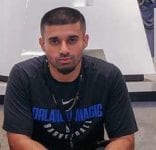 FITNESS CORNER
HASEEB FASIHI
Haseeb Fasihi is a professionally experienced basketball/athlete development specialist with a demonstrated history of working in the NBA industry. Fasihi is skilled in coaching, biomechanics, strength & conditioning, player development, recovery, rehab and exercise prescription. He also has a bachelor of science focused in sports & exercise science/human performance from the University of Central Florida. Haseeb is currently a strength and conditioning/player development specialist for the Orlando Magic. In addition to his role with the Magic, he's apart of the M.A.D.E. Performance team, offering: all levels of basketball player development, strength & conditioning programs, celebrity training inquiries, physical rehab programs, and personal training.

To find out how you be featured in BUSINESS PEOPLE ON THE MOVE, call us at (305) 284-7372 or contact Aaron at aaron@cnews.net