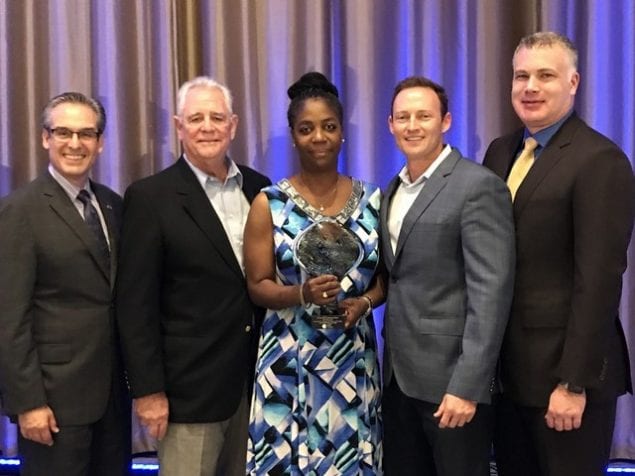 Miami-based Coastal Construction Group, one of the leading construction management/general contracting firms in Florida and the contractor behind many of Miami's most high-profile projects, received the distinguished Julia Tuttle Award for Community Involvement and Corporate Citizenship from the Greater Miami Chamber of Commerce during the Association of Fundraising Professionals (AFP) National Philanthropy Day Luncheon on Nov. 2.
Established in 1986, the Julia Tuttle Award recognizes a for-profit business whose South Florida corporate giving program and outreach policy is a role model for all to follow. The annual award singles out a company with operations in Miami-Dade County whose corporate philosophy and outreach to the not-for-profit sector epitomizes the best in corporate community involvement.
Past recipients have included Lennar, Miami Marlins, Macy's, Citi Foundation, Carnival Cruise Lines, Royal Caribbean Cruises, and Publix Super Markets.
"It is an honor to be recognized by the Greater Miami Chamber of Commerce with the Julia Tuttle Award," said Tom Murphy Jr.m chair, CEO and founder of Coastal Construction Group. "Giving back is an important part of our culture and a core value at Coastal that extends beyond financial contributions. It's a shared passion that runs throughout the company. We believe when we work together, we can make a positive impact."
Recently, Murphy and Coastal Construction Group provided the lead donation for a new 20,000-square-foot, state-of-the-art design studio at the University of Miami's School of Architecture that will help the university and the city attract the next generation of architect and designer leaders.
"Our success in the numerous events that we participate in annually, beyond the monetary support, is largely due to the volunteer participation of our caring employees," said Mike Murphy, vice president of quality assurance and co-chair of Coastal Cares, the company's philanthropic arm.
"This year alone, more than 50 Coastal volunteers, including family members, have taken part in our philanthropic efforts. Our team is grateful for our many blessings and will do whatever it takes to help the community and those less fortunate," he added.
For more than 30 years, Coastal and Coastal Cares have made an impact in the community through a variety of hands-on volunteer efforts, in-kind donations, and financial contributions.
In 2017, following devastating hurricanes in the Florida Keys and the Caribbean, Coastal set up a fund through the American Red Cross to assist storm victims, matching all financial donations dollar for dollar to fund vital building supplies. Coastal also teamed up with other South Florida companies to lead a supply drive for Hurricane Irma survivors in the Florida Keys and the Caribbean, making a substantial donation to the drive and soliciting contributions of everyday personal items. Coastal employees also volunteered to help Florida Keys residents clean-up the debris around their homes following the devastation caused by Hurricane Irma.
Coastal has a long history of helping its neighbors in the Caribbean. Following the devastating earthquake in Haiti in 2010, Coastal and a broad base of community leaders stepped in to provide much needed financial support to Haiti's local dance troupe, Ayikodans, a source of cultural pride that was on brink of closing its doors, so they could rebuild and continue their tradition.
Additionally, in 2011, Coastal rebuilt Miami Bridge Youth and Family Services, Miami's only emergency shelter for abused, neglected, and abandoned youth that was in desperate need of renovations. The shelter was later renamed the Miami Bridge Coastal Home for Children and Teens in honor of Coastal's efforts and ongoing support.
Coastal Cares also has teamed with its subcontractors on several occasions to repair damaged homes and lift the spirits of many deserving families in Miami-Dade County.
Coastal Cares benefits numerous organizations and causes throughout the year, including Miami Bridge, Rebuilding Together, ACE Mentoring Program, Sheridan House Family Ministries, Camillus House, I Have a Dream Foundation, Boys & Girls Clubs of Broward County, United Way, Baptist Health Foundation, Education Fund/Teach-A-Thon, Miami Dade County Public Schools and other non-profit organizations.
For more information on Coastal, call 305-559-4900, or visit www.coastalconstruction.com.