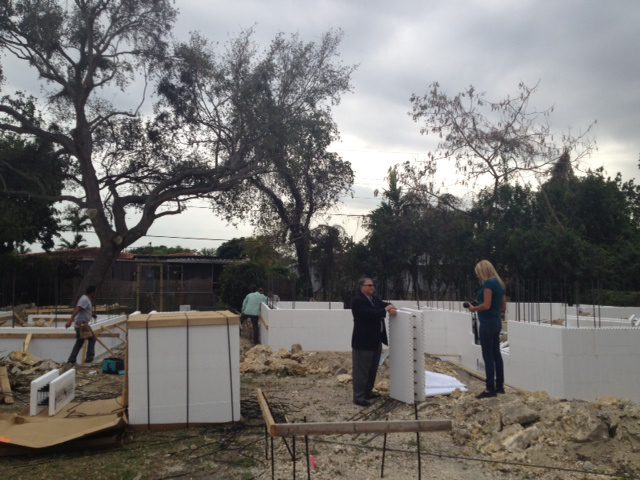 Esslinger?Wooten?Maxwell (EWM) Realty International has announced that longtime real estate associate and noted developer Carlos Ruiz de Quevedo has officially broken ground on the first two certified "green" homes in Little Gables, to be located side-by-side at 4464 and 4456 SW 11 St., which also will be the first "green" speculative ("spec") homes in Miami-Dade County. Ruiz de Quevedo will serve as both Realtor and developer for the project.
lated to be completed in early fall and sold in the upper $500,000 range, the three-bedroom homes will feature more than 2,000 square feet of flexible interior floor plans, an easily adaptable extra room, walk-in closets, porches, and attractive, low-maintenance landscaping.
More significantly, the solar-panel ready residences will offer various energy and money saving amenities, including reinforced insulated concrete walls to keep heat out and offer hurricane protection, sustainable bamboo flooring, impact windows with tinted glass to reduce reflective heat, metal roofs with reflective coatings and foam insulation for a cooler attic and consequently lower electricity and air-conditioning bills, permeable pavers, and gutters for rain harvesting.
The "green" homes additionally will be outfitted with energy-efficient, LED and compact florescent light fixtures, high efficiency air conditioning units — with "smart" thermostats that "learn" and adapt to the schedules of residents — and wireless light-switching systems.
Ruiz de Quevedo discovered the property last year and subsequently joined with Coltrain & Jones Architects and Milian Development Group to build the homes, which will use 70-percent less electricity than conventional homes.
"Through this project, our goals are to make consumers aware that 'green' homes are a better investment because they cost less to manage, and to change the mindset that they are exceedingly expensive to buy or must be custom-built," Ruiz de Quevedo said.
"Carlos has been a tremendous pioneer in the growth and development of energyefficient building techniques and technologies in South Florida," said Ron Shuffield, president and CEO of EWM Realty International. "We applaud him on the success of this latest initiative,
which will undoubtedly pave the path toward future development of 'green' homes."
Certifications applied for include LEED for Homes and USDOE Energy Star Rating for Homes.
"My hope is that this will become the standard in South Florida and that buyers will begin to look beyond granite countertops and concern themselves with homes' operations," Ruiz de Quevedo added.
In 2009, Ruiz de Quevedo began an ecofocused sub-set of EWM, Sustainable Realty Group, and currently serves as the chair of the City of Coral Gables' Green Task Force.
For information on the homes and/or the individuals involved with the project, visit EWM.com or www.miamigreenrealtor.com