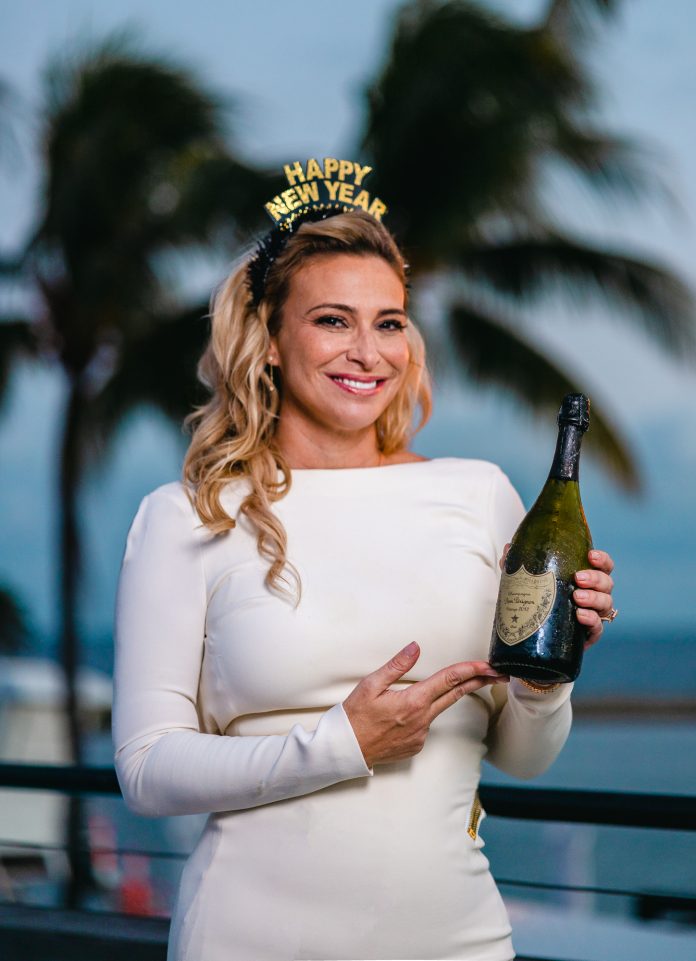 Celebrity Chef and Food Network Star Donatella Arpaia is hosting a can't miss New Year's Eve celebration at her brand new, waterfront Miami restaurant, NOMA Beach at Redfish. The celebration will feature beats from DJ Mister Grey, spectacular fireworks over the water, and a multi-course family-style dinner complete with a champagne toast with Dom Perignon.
NOMA Beach at Redfish is excited to welcome guests into their beautiful one-of-a kind waterfront property, which has been completely transformed. Chef Donatella Arpaia is thrilled for Miami to experience her delicious cuisine inspired by her summers spent along the coast of Italy – her award winning meatballs, crudo, and decadent desserts like tiramisu and dark chocolate cake are featured on the evening's menu.
Upgrades including Passmore Caviar Service, Cinco Jotas 5J Jamon Iberico, and Brittney Blue Lobsters flown in from France are available.
We caught up with Donatella who filled us in on everything from her delicious menu highlights to her favorite holiday cocktail.
Can you tell us about all of the fun surprises you have for guests dining at NOMA on New Year's Eve?
Guests are going to be surprised about the new and improved NOMA Beach at Redfish. It was an iconic place for so long, but we really upgraded it – it's so beautiful and sexy now. We will be having a private fireworks show on property, as well as a fantastic view of the fireworks our wonderful neighbors will have. I'm so excited for guests to experience my cuisine; we take a lot of pride in sourcing the best products. New Year's Eve is a time for indulgence – we will have Passmore Caviar, Blue Lobster, and a Cinco Jotas 5J Jamon Iberico carving station. And of course, all the favorites – my meatballs, crudo, food from my amazing Wood Stone wood burning oven, and desserts from our pastry chef. DJ Mister Grey will be there with us ringing in the New Year for our Masquerade party. I really feel like this is a culmination of my experience and this space really reminds me of the summers I spent in Italy. I see this as an invitation to my personal party, and I can't wait to see everyone!
What are you most excited about in 2023?
I've taken a sabbatical in a way since having kids. Now that they're entering school, it's exciting to be back in fine dining with an elevated sense of service. This really is my passion.
What dish are you most excited to serve at your New Year's Eve celebration?
This is such a tough question – it's like asking me who my favorite child is! I'm a caviar girl but I also love Blue Lobsters, they're so unique and rare. The Lobster Pappardelle is becoming such a popular dish here. Our chef, Chef Joseph Bonavita is a real talent and I love that we are both Long Island Italians, I'm excited to showcase him!
What's your favorite cocktail to celebrate New Year's Eve with?
I love making this Sunset Spritz cocktail on New Years – it feels so festive to me.
Ingredients:
• 1oz Belvedere Lake Bartężek
• 2/3oz Sherry
• 2/3oz Italicus
• 1/3oz Limoncello
• 1 2/3oz Soda Water
• 1 2/3oz Moet Champagne
Method:
Build the first four ingredients in a glass over cubed ice and stir. Add soda water and Moet and gently stir to combine. Garnish with Petite Basil/Julienne Lime
NYE, 5 – 8 pm at $125 per person.
NYE, 9 – 11 pm at $275 per person.
For more information and to make your reservation, please visit https://noma-beach.com/.