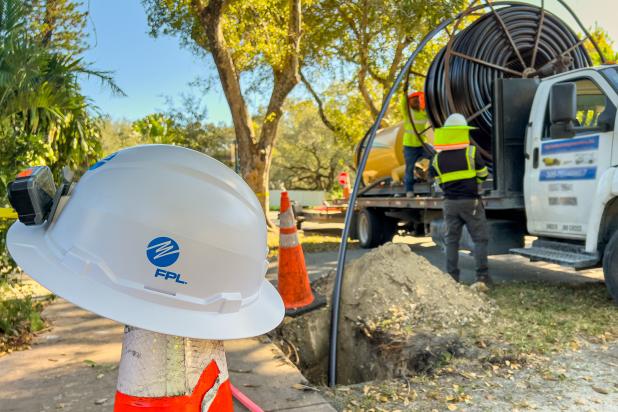 We are pleased to let city residents and businesses know that FPL plans to convert all neighborhood (lateral) lines from above ground to underground. For several years, the City of Coral Gables has been exploring undergrounding our electrical system, and our telephone and cable infrastructure. This entails removing overhead electric distribution, telephone and cable television wires, lines and poles throughout Coral Gables, and placing these facilities underground. It is a big undertaking that will make our infrastructure stronger, safer, more reliable and more resilient to outages and service interruptions. Utility undergrounding is something residents and businesses have wanted since Hurricane Andrew in 1992 and, more recently, after Hurricane Irma in 2017. It also provides a more attractive aesthetic for our City Beautiful.
We are especially pleased that the project will be paid for by FPL through their Storm Secure Underground Program, approved by the Florida Public Service Commission, with no direct cost to city residents or businesses. When the city began exploring the viability of undergrounding, the total cost was expected to exceed $400 million and would have required voter approval for the city to issue bonds, and burdened property owners with thousands of dollars added to their property taxes for the next 30 years. The cost to our city property owners made this project untenable.
FPL expects that two-thirds of the city will have its electrical system converted to underground within 10 years, while the remainder may take another 15 years to complete, pending continued approval by the Public Service Commission. This project includes undergrounding all backyard overhead lines to the electrical connection at every property that is currently served by overhead infrastructure. In addition, as part of FPL's main feeder line hardening efforts, up to 15% of overhead main feeder line miles could be converted to underground.
FPL will manage the project in close coordination with the city. Before overhead to underground conversion takes place in your neighborhood, they will contact you. It is important that all property owners assist with access to any utility easements that may be required. We are also determining how to convert the AT&T and Comcast infrastructure from overhead to underground as part of the citywide project.
The undergrounding initiative is a citywide, multi-year endeavor that will transform Coral Gables for the future. We hope you are excited about this game-changing project that will be undertaken at no cost to the city.
For more information, visit our Frequently Asked Questions page or our Undergrounding Project Construction Updates page.
City of Coral Gables Undergrounding Project Team
ABOUT US:
For more Miami community news, look no further than Miami Community Newspapers. This Miami online group of newspapers covers a variety of topics about the local community and beyond. Miami's Community Newspapers offers daily news, online resources, podcasts and other multimedia content to keep readers informed. With topics ranging from local news to community events, Miami's Community Newspapers is the ideal source for staying up to date with the latest news and happenings in the area. Additionally, the newspaper has exclusive Miami community podcasts, providing listeners with an in-depth look into Miami's culture. Whether you're looking for local Miami news, or podcasts about the community, Miami's Community Newspapers has you covered.