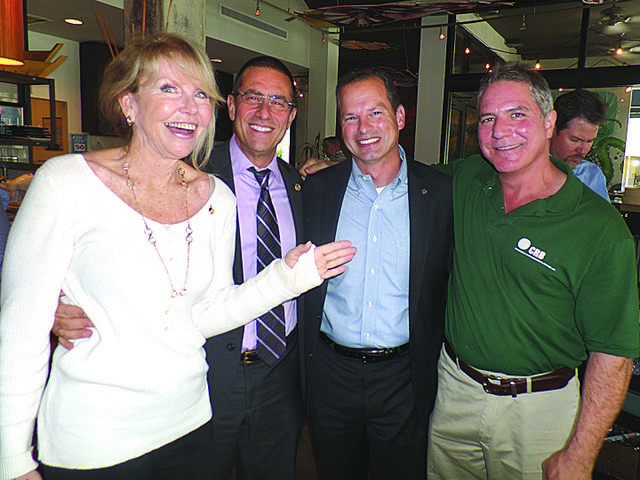 Outgoing Coral Gables Rotary president Carlos Bolado condcuted his final official meeting on June 25 at La Jolla in fine fashion recapping his year and announcing recipients for the President's Award, Lorraine Sheldon, who chaired the Civic and Charity Committee and spearheaded a project that furnished the new apartments for six previously homeless veterans.
In addition, the Rotarian of the Year Award was presented to Terry Long, club administrator and the force behind the club's scholarship fund.
Prior to that final meeting, on June 8 Sushi Maki hosted Coral Gables Rotary's installation during which Greg Martini and his new board were installed prior to taking over July 1. Rotarians packed the restaurant for a lovely celebration, great food and drink.
Speaking of a good time, whenever you get festival and events planners together, you count on a good time and the Greater Miami Festivals & Events Association Conference at MACC was no exception.
After the morning workshops, the luncheon provided lots of great entertainment including emcee Suzy Q who performed as well as two great bands, Pure Energy Street Band and Sunshine Jazz All Stars with Oriente. Adding to the show was a beautiful performance by Rena the bellydance artist and yet another great act by the ISEILE Afro Cuban Dance Company. Sound and lighting was provided by Beach Sound Group and Aivia.
The crowd cheered on the Catabella Express train as it rolled around and through the ballroom trailed by many who were dancing while the and played making for a super luncheon showcase grand finale.
Lunch also provided GMFEA executive director Robbie DiPietro, a brief meeting opportunity to elect new officers. As Mark Pidal steps down as president, Pati Vargas (Viernes Culturales) takes over. Others elected include vice president, Amanda MacMaster (Art Deco Weekend); secretary/treasurer, Mike Hatcher (Everglades Bluegrass Festival), and board at-large: Victoria Cervantes (Marketing/PR Consultant); Corey Lewis (Miami Book Fair International); Phillip Marro (B. Lilley Productions/ Lauderdale Air Show); Bill Peters (Redland Orchid Festival); Andrea Ramos (City of North Miami); Bobby Rodriguez (Florida Renaissance Festival); Lanie Shapiro (Touchpoll South Florida), and Monty Trainer (Coconut Grove Arts Festival).
Congratulations to PARK (Perform Acts of Random Kindness) Project celebrating its fifth anniversary with Epic style on June 20. PARK treated supporters to a blue carpet entrance at the Epic with signature "Live. Love. PARK!" cocktails, tasty tapas, and a "Non-Silent Auction" with incredible prizes. Guests enjoyed the sounds of the José Negroni band and socializing with the best company anyone could ask for…PARKers! This Epic "Party for a Cause," marking a huge milestone for PARK Project, would not have been possible without the support from LILT Lounge and the outstanding Kimpton Hotels team that hosted the party. Save Oct. 3 for the PARK 5K on Virginia Key.
Finally, do not forget to attend the great Scoops of Hope Breakfast at the Westin Colonnade on July 22. Tickets are $10 for a full buffet breakfast with ice for dessert. One hundred percent of the proceeds will benefit Give Kids the World Village and local participating charities such as the Junior Orange Bowl, MADD, Coral Gables Rotary, Coral Gables Woman's Club and many more. Any charity wanting to participate may call this writer at 305-284-7379 to get tickets on consignment. Participating nonprofits keep half of the money for their charity for any tickets they sell.
Until next time, keep making each day count.
If you want to submit information for this column, please send your news via email to gloriagalburns@aol.com.