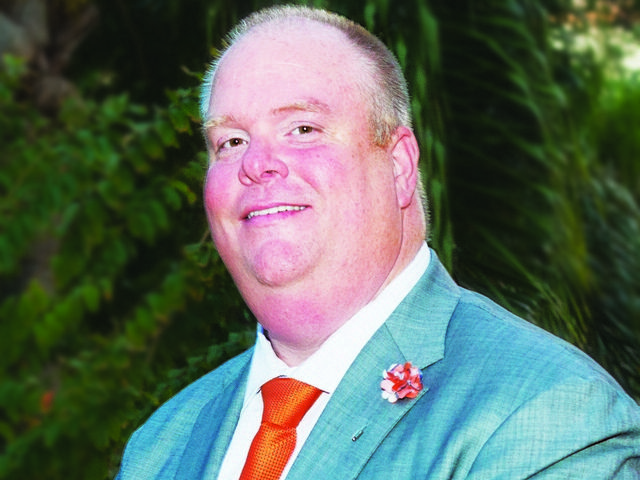 I have long been a student of history, passionate about the past and a stalwart keeper of traditions.
Thus, with the rapid approach of our chamber's 90th anniversary — an incredible milestone in the life of any organization, but especially a non-profit — it was the perfect time to gather our community together to celebrate our historic past and our even brighter future.
And, it wouldn't be a party if we didn't invite each of you to join us in this commemoration of our many successes, highlighting our greatest challenges and communicating our vision for the next 90 years.
Rare is the community organization that shares its founder with the city it serves. Even more rare is the fact that George Merrick, a son of the Southern wind, placed his fingerprints on a number of entities that also will celebrate nine decades of service to the City Beautiful.
Both the city and the University of Miami were chartered in April 1925. Shortly thereafter, our chamber began to put down deep roots here by encouraging commerce in the same way Merrick was selling land and lots. Then came the Biltmore Hotel, the Woman's Club, the Garden Club, the Music Club and well, you get the idea. It was a busy time of developing business and building community.
Merrick was not a man to rest on his laurels or take a day off. He had a vision — a planned community — that today is the very place we are proud to call home. His original vision for the Gables can be seen in our residential and commercial architecture, the banyanlined boulevards that criss-cross the City Beautiful, and of course, the names of the individual streets, an homage to his fascination with the Mediterranean culture and the sun-soaked streets of Spain.
While 90 years is a mere moment in time compared to many of the places Merrick visited abroad, it is still a milestone worth celebrating, especially with the synergies that continue to exist today among the many organizations he created — and that these groups have subsequently founded (for us, the Coral Gables Community Foundation and the Business Improvement District of Downtown Coral Gables). This legacy is unique to Coral Gables and a daily nod to the common threads that bind us all together in adoration of our beloved community. Our Chamber led that.
From the earliest days, Merrick would convene the captains of industry in the Gables — and yes, in 1925, they were mostly men who wore tailored wool suits and tromped about the city in search of business and focused on growth. But, I am even more proud of the fact that our chamber has had nearly a dozen women lead this fine organization over the past 90 years, beginning with Margaret St. Germain in the 1970s, a tough-minded businesswoman who owned her own stationary and office supply store.
Of course, today women make up nearly half of our chamber and our leadership and many who have served us so well they have gone on to bigger things in our community. Our chamber opened those doors.
The international nature of our community today — with more than 150 multinational corporations calling the Gables home — also began with our Coral Gables Chamber and the Committee of 21. In the 1970s, a small group of dedicated volunteers recognized that Coral Gables was uniquely positioned to serve as a hub for the Latin American headquarters of large companies based elsewhere. It was the original concept of location, location, location!
And so, this merry band of corporate recruiters would fly around the hemisphere — from Houston to Montreal —to invite companies to open an office in Coral Gables. Suddenly, what began as an idea was now a movement and the professional service firms and banks that could support companies of this nature soon followed. In a short time, we were dubbed the Corporate Capital of the Americas and everyone wondered how in the world this happened. A dedicated group of chamber volunteers did that.
Today, we are recognized as a hub for banking — just drive up and down Alhambra Circle on a weekday around lunchtime. This bustling corridor is lined with amazing institutions that choose to headquarter in the City Beautiful, their names gleaming in the bright sunlight of a beautiful chamber day. And now these financial houses have been joined by other industries, as well, including such international telecommunication powerhouses as HBO and the BBC and other megabrands that appear above the fold in any financial publication. The chamber played a pivotal role in that.
The past is prologue in Coral Gables. Our past has helped define the present, bolstered by a roll-up-your sleeves work ethic, thus predicting our future. There is no secret to our success. It is bold and clear and laser focused. We have always embraced our roots, firmly planted in the idea that a community that is both charming and sophisticated can exist in a metropolis of more than 2.6 million.
We have, since day one, been at the head of the class. We chose substance and style as our calling card 90 years ago and when we went door-to-door to share this message, it resonated with our residents, business owners, visitors and admirers. Our chamber embraces that.
Each June, we honor a leading citizen with the George E. Merrick Award of Excellence. For nearly a decade we have stood up and recognized the legacy of Merrick by reminding everyone of his contributions — to business, education, the cultural arts, architecture and more. We are a keeper of these traditions, but we do not stand alone. Our chamber celebrates that.
In the end, our George Merrick may have lost everything and died having not had enough time in his life to find his way back to the city he founded and loved more than himself. Some would say this was never his goal — to be the founder of a city like Coral Gables — but it is his greatest achievement and our greatest fortune.
And, for the past 90 years, our chamber — and our community — has spent every single day paying tribute to this vision by making sure that his ideas and passion and traditions are never forgotten.
Happy 90th, Coral Gables. Today, let's celebrate a dream realized. We all contributed to that.