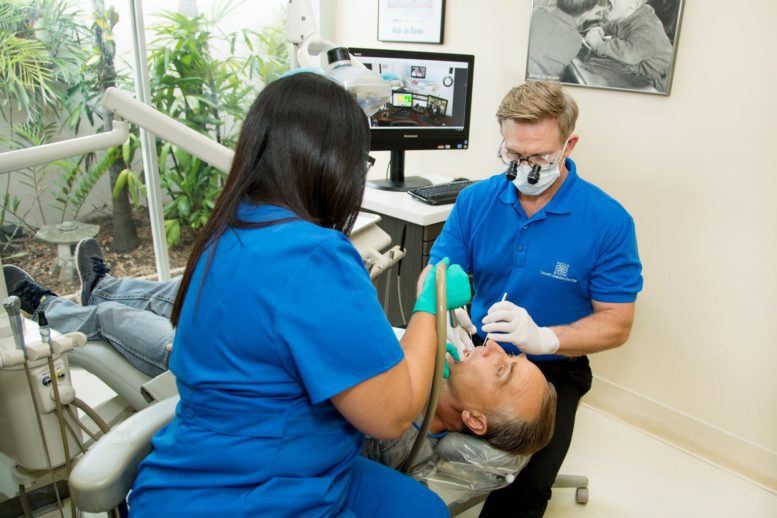 Invisalign. Zoom WhiteSpeed LED. Cerec One-Visit Crowns.
For the uninitiated, the terms sound like high-tech products launched by Silicon Valley start-ups. In fact, they are among the latest dental procedures offered by Dr. Lawrence Lesperance in his South Gables dental practice.
In addition to the most current technologies available in dentistry today, South Gables Dental also has in-office gum and root canal specialists−all combining to build healthy teeth, gums and a smile that inspires real confidence.
Dr. Lesperance was born and raised in Miami, graduated from Columbus High School, then received his B.A. in Biology from Brown University and dental degree from Emory University.
He completed an Advanced Dentistry program at the prestigious Pankey Institute on Key Biscayne, and under the tutelage of renowned dentist Dr. Peter Dawson, completed a training program on TMD and occlusion in Tampa.
Fueled by a passion for technology that improves lives, he stays current with cutting-edge dentistry, attending many hours of continuing education courses nationwide each year.
"It [technology] changes every day, not just the equipment, but the [compound] advances in materials" said Dr. Lesperance, whose advanced Cerec milling machine allows him to create exact replicas of teeth from scanned 3-D images, only stronger. "Dentistry today is a mix of art and science."
His practice is built on quality, speed and convenience. Patients appreciate that they can come to the office and receive complex treatments, often in the same day. It is not uncommon for them to post photos and videos of the procedures on Facebook. About 70% of his new patients are referred by his satisfied existing patients
Among the latest technologically advanced dental equipment he has acquired is a CEREC machine, which allows a dentist to fabricate all-porcelain crowns and fillings in one visit. Dr. Lesperance is one of the few CEREC Dentists in the area. This allows patients to avoid multiple visits to the office for impressions or temporary caps.
Invisalign is a procedure that aligns teeth invisibly without braces while his Zoom! LED WhiteSpeed machine whitens teeth and zaps away stains and impurities at the same time.
Together, they make up the "big three" of the newest high-tech procedures performed at his practice.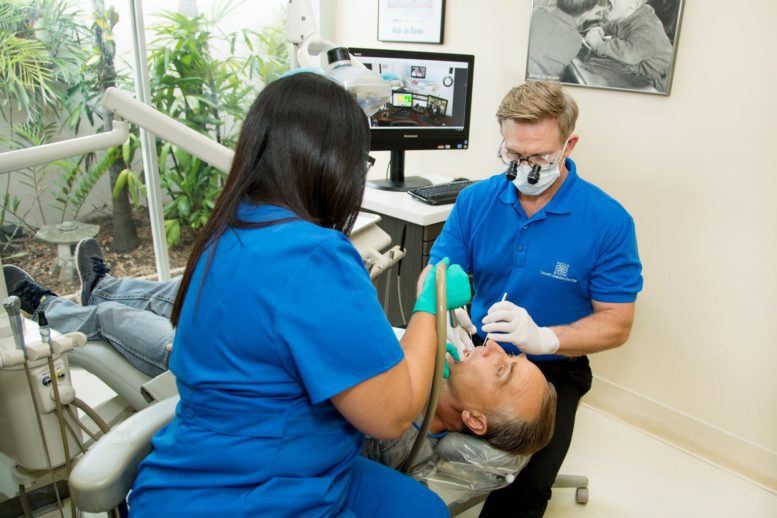 All-on-4, an advanced technology for immediate implants that uses four implants to replace all the teeth on the top or bottom of the mouth is also a popular option with patients.
His digital X-ray system, which uses 90% less radiation than typical X-ray systems, is another new technology at his disposal that utilizes sensors and computers. The process is instantaneous, reading capability is vastly improved compared to film X-Rays, and images can be blown up to fill a 26-inch computer screen.
Even his office management is digitized. It now uses a general management software program containing patient records, histories, photos, notes and other critical care data, allowing his practice to go paperless two years ago.
Like with his digitized dental records, insurance and financial records are backed up securely every night and stored on the Cloud, providing instant access for patients and staff alike. "Patient records can be safely accessed and emailed to anywhere in the world from my cell phone," said Dr. Lesperance.
With efficiency always in mind, the transition to a more digitized practice has also freed up office space. Big file cabinets have now been replaced with a lunchroom for employees, brightening the smiles of staffers.
A virtual laboratory of learning, his high-tech office with 3-D modeling allows Dr. Lesperance to show patients enhanced detail in real time and discuss the best treatment protocols at a pace that is comfortable for both.
While many dentists see dozens of patients each day, Dr. Lesperance prefers a lighter daily patient load, so he has more time for personal service.
"Half of what we do is treatment, the other half is education," he said.
South Gables Dental is located at 4950 S Le Jeune Road,  Suite C. For more information please call 305-665-1263 or visit www.southgablesdentist.com.