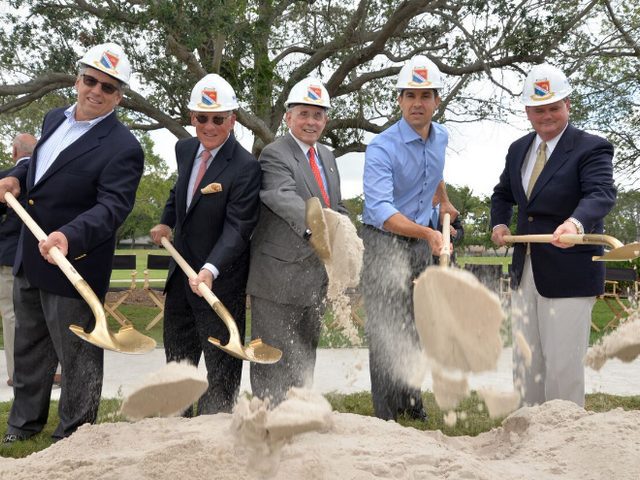 The Riviera Country Club recently broke ground on the new 60,000-square-foot, two-story "Island Classic" style clubhouse. The $37 million newly constructed building will feature a two-story 8,000 square foot fitness center and aquatic complex.
Coral Gables Mayor Raul Valdes-Fauli and Commissioner Vince Lago attended the groundbreaking event. The project is expected to be completed in the fall of 2019, making it one of the newest clubhouses in South Florida.
"We are extremely excited that we have officially broken ground on this brand new, contemporary clubhouse," said board president Frank Vilar. "Its state-of-the-art facilities will be enjoyed by us and future generations."
The Riviera Country Club worked with the industry's leading Architect and Interior Designers, Peacock +Lewis LLC, an award-winning firm that has been providing architecture and interior design services to communities, particularly country clubs since 1961. They also are using the services of Miami-based Beauchamp Construction, a leader in the construction industry.
The Clubhouse will include:
• State-of-the-art 6,000-square-foot event room that will be able to host 400 members;
• Family-oriented 8,000-square-foot fitness center;
• 2,500-square-foot Family Grille Dining Room;
• Large Pool Deck and adjacent recreation areas;
• Aquatic program including a 25-meter Lap Pool and Family Pool
• Wrap around terraces with views to the newly renovated golf course and
• New ceremonial entrance from Blue Road.
The Riviera Country Club reopened its renowned golf course in January 2016 after completing its most ambitious golf course renovation to date. The $9.6 million project delivered one of the most modern and unique golf course designs in South Florida featuring dramatic elevation changes and the addition of nearly three acres of lakes, among other updates to the course.