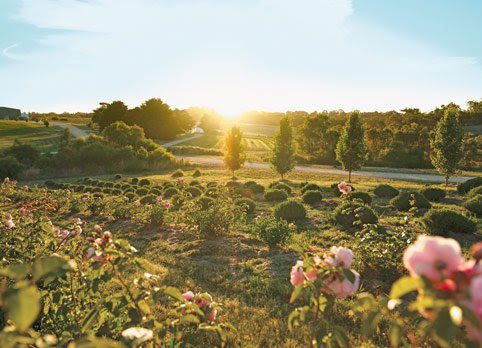 New Spring Getaways for Babymooning Couples, Mother's Day and Father's Day
Take a deep breath. Spring is almost here, and the Jurlique Spa at the Mayfair Hotel & Spa Miami brings to light a bouquet of new springtime indulgences: a Babymooners Miami Getaway for couples wanting to escape before expecting their new bundle of joy, new Mommy Vices and Daddy Vices packages for Mother's Day and Father's Day, plus travel tips to help parents recharge while on vacation.
Nature is Jurlique's inspiration. Renowned as a pioneer in natural science for more than 25 years, Jurlique nurtures its own organically grown flowers, herbs and plants for proprietary blends from its magnificent biodynamic farm in the Adelaide Hills of Australia.
As one of only a handful of Jurlique spas in the United States, the Spa at the Mayfair Hotel features treatments utilizing Jurlique's Bio-Intrinsic™ extraction method to capture the life-force of plants, enhancing their potency to create the most powerful, purest skin care on earth.
The ingredients used for treatments at Jurlique Spa are of the highest quality, hand crafted with an artisanal approach to beauty and well-being.
Holistic in approach, every product is entirely biodegradable, hypo-allergenic, pH balanced and nothing is tested on animals.
Nestled within the hotel's Zen-like gardens and fountains, the Jurlique Spa is a tranquil sanctuary for the mind and body complete with seven sunlit treatment suites, a relaxation lounge and spa boutique.
The energy of Jurlique's essential oils work to stimulate the body and mind, formulated with unique blends of herbs and botanicals so pure and potent they deliver the best in high-performance Spa treatments.
Hand-picked flower petals evoke the essence of femininity. Australian super-fruits and plant derivatives like Kakadu Plum, Desert Lime and Wattle combine with innovative extracts such as Blue Sea Algae and Rock Samphire.
Babymooners Miami Getaway at The Mayfair Hotel
Carve out some relaxation and quiet time before your duo becomes a trio, with the Mayfair Hotel's new Babymooners Miami Getaway. Expectant couples can enjoy specialized pampering, gourmet breakfast in bed and a take-home indulgences basket.
According to a University of Miami School of Medicine study, pre-natal massage provides multiple positive effects, including decreased back and leg pain, improved sleep, lowered anxiety and a decrease in levels of the stress hormone norepinephrine.
Experts in pregnancy massage modify their bodywork techniques by being mindful of the changes in the body of a pregnant woman. These can include an increase in blood volume by as much as 50% during pregnancy, and sluggish blood flow to the legs. Circulatory changes mean a pregnant woman should avoid deep massage and strong pressure on the legs. Massage strokes to the legs should move toward the heart, especially after traveling.
First stop on your Miami Babymoon? The Jurlique Spa.
After hours of traveling, slip into your luxurious robe and forget the stresses of planning and organizing for the baby's arrival with a "Mother-To-Be Massage" (don't worry Dad, you get one, too.) Expert therapists meet with you beforehand to tailor the massage to your needs. Getting a pre-natal massage helps ease soreness from swollen ankles, tender legs and tired feet. Spend the rest of your getaway sipping sparkling cider at one of the hotel's rooftop poolside cabanas, taking in the panoramic sunset views over Biscayne Bay.
The Babymooners Miami Getaway also allows you to take some serenity home with you.
Jurlique's baby care products are formulated to keep skin soft and soothed – perfect for extra kisses and cuddles. Lavender essential oils help to calm both mother and baby. The take-home basket includes Baby's Calming Bath Oil, Baby's Gentle Shampoo and Body Wash and Baby's Soothing Bubble Bath. For the expectant couple, Jurlique's Comforting Blend Essential Oil creates a warm, relaxed atmosphere for a sense of intimacy and peace, plus a box of chocolate truffles to satisfy those unexpected nightly cravings.
The Mayfair's Babymooners Miami Getaway includes two nights in the hotel's luxurious Venetian Suite, breakfast in bed daily, customized Jurlique Spa treatments, and the Take-home Treats basket from Jurlique. Price starts at $1,150. Valid March 1-June 30.
Mother's Day and Father's Day at The Mayfair Hotel & Spa Miami … Mommy Vices & Daddy Vices …
The Mayfair Hotel & Spa Miami celebrates its shared 30th birthday with the hit 80's TV sensation Miami Vice.
Throughout 2014, at the hotel continues its 80's-themed "Miami Vices" with these new indulgences for Mother's Day and Father's Day (Mommy Vices and Daddy Vices).
The hotel also offers these tips to help parents recharge together on their Miami getaway.
Parenthood, while wonderful, has its share of challenges, and the Mayfair's Miami Vices experts come to the rescue with this prescription:
Tip #1: The secret to parental bliss starts at the spa.
These getaways feature the options of a Mother/Daughter Jurlique spa day, or a couple's massage together.
Tip #2 might not be such a secret: Exercise.
We all know we should, but the key to success in fitness is to make it fun so you can feel more energy, reduce your stress and handle whatever life throws at you while parenting. Exercise can almost feel self-indulgent – and that's part of the boost. The Mayfair Hotel is perfectly located just steps away from some of Miami's best walking destinations, in the heart of the City's historic first neighborhood, the Village of Coconut Grove. Surrounded by boutiques, parks, Biscayne Bay and scenic vistas, parents can take advantage of their getaway to get back in shape together. The packages include romantic jaunts via a sailing class for couples, and a walking tour of Coconut Grove.
Tip #3: Take personal time.
Quality time away from the kids can be just as important as quality time with them. Nurture yourself and remember to set aside time to become more centered and relaxed, taking time apart from the immediate needs of your children.
These getaways feature a private meditation course for parents, using Jurlique's signature fragrances: rose, lavender, citrus, and jasmine to stimulate your senses on a variety of levels … 
The aroma of real roses is believed to improve your overall sense of well-being, evoking the essence of tenderness with Jurlique's hand-picked petals. Lavender is a serenely delicate scent that has long been used to promote restful sleep and relaxation. It evokes feelings of comfort and calmness. Citrus is a refreshingly energetic scent that uplifts the senses, to create an enlivened state of being. Jurlique's proprietary blend of zesty citrus notes evokes a spirited and effervescent attitude.
Jasmine is an enchantingly provocative scent that immediately transports your senses. Jurlique's jasmine blossoms are harvested at night when the flowers are in their most fragrant state, awakening the passion and romance deep in the soul.
Tip #4: Spend Time with Your Partner.
The final tip is to take a cue from Jurlique Spa's relaxation lounge and create your own special serenity zone back at home. For this, the Mayfair Hotel sends you off with your very own Vices basket, including Jurlique's Rose Love Balm, Lavender Body Oil, Citrus Purifying Mist and Jasmine Shower Gel.
The Mayfair Hotel's Mommy Vices and Daddy Vices getaways include: two nights in the Mayfair's Parlor Suite, Jurlique Spa treatments customized to meet your special needs, a bottle of Champagne upon arrival in the room, dinner for two at the hotel's Spartico restaurant, a couple's sailing course, a private meditation course, a couple's walking tour of Coconut Grove and a Vices basket to take home. Prices start at $1,850. Valid April 1-June 30.
Reservations are required for the Mayfair Hotel & Spa Miami's springtime packages, one week in advance of arrival date. Any modifications or cancellations must be made at least 48 hours prior to the date of arrival to avoid cancellation penalties. Additional restrictions may apply. Offer components, unless otherwise noted, are not transferable or redeemable for cash and cannot be applied towards future stays. Not valid with group bookings and cannot be combined with other discounts or offers. To book your Miami Vices Springtime getaways, call the hotel's "Vice" specialists at 305 441 0000 or visit www.mayfairhotelandspa.com.