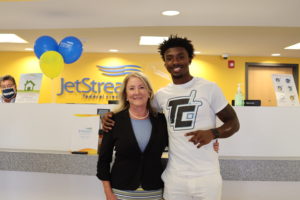 JetStream Federal Credit Union has been supporting Miami-Dade's local community for more than 70+ years. With a large percentage of their members coming from low-income families, JetStream is a bastion of financial inclusion in the state of Florida.
The majority of people in South Florida live in urban heat islands with fewer trees and more pavement and reside in housing with older building materials and appliances. In Miami, 65% of the housing stock is over 50 years old.  As a result, there's a huge need for major repairs such as new roofs, impact windows, mold remediation, replacement of air conditioning units, and energy-efficient upgrades. JetStream's Home Equity Line of Credit product enables people to finance these repairs, with the ability to draw on the line of credit for up to 10 years as needed while paying down the balance. The repayment term on this product is usually 15 years.
JetStream's dedication to helping its members does not stop there, they can also assist with insurance needs. Everything from homeowner's insurance to renters insurance to help members save additional money. The insurance services are available in-house, making JetStream a one-stop shop for members and potential members alike.
If you are interested to apply or hear more, please visit Jetstreamfcu.org or call 305-821-7060.