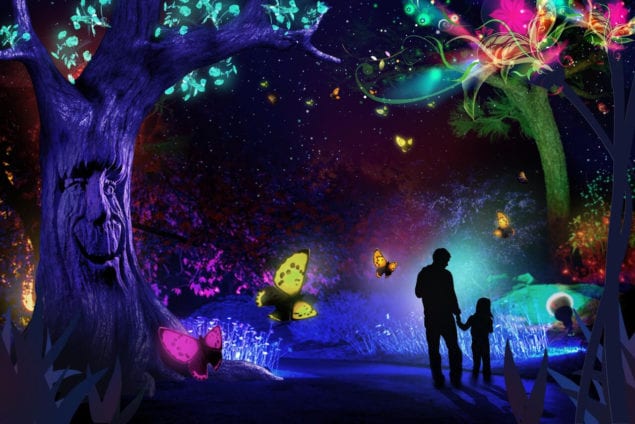 The first ever NightGarden makes its debut this holiday season to transform Miami's Fairchild Tropical Botanic Garden into an illuminated wonderland at night.
Locals, visitors and guests of all ages can journey through spectacular lighting displays, awe-inspiring special effects, motion-sensing technology, illuminated mazes, state-of-the-art outdoor holograms, sculptures and more unbelievable surprises around every corner. The experience opens to the public on Nov. 23 and runs through Jan. 6, 2019.
The NightGarden is an immersive night attraction that blends entertainment, unique photo-worthy moments, a variety of local food options and fun for all through a stunning experience created by leading artists, sculptors and designers.
"Families and friends are constantly craving new ways to experience life together, let loose and simply disconnect from their screens, especially during this time of year," said Mark Manuel, CEO of Kilburn Media, the team behind the live event production through Kilburn Live.
"With The NightGarden, we aim to create an event where our guests can experience the unbelievable," Manuel added.
"The mystical NightGarden will help visitors escape to the gorgeous setting of the world-famous Fairchild Garden. This experience is a chance for the community to suspend reality for a few hours, have fun and explore the world in a whole new light," said Max Painter, creative producer of The NightGarden.
The captivating experience will span 23 acres at Fairchild, featuring a collection of highly interactive landscapes augmented by spectacular 360-degree lighting, illusions and special effects. Highlights of The NightGarden include talking trees, illuminated mazes, engaging scavenger hunts, a whimsical fairyland and growing dandelion field, among other supernatural surprises.
"The NightGarden is an experience unlike any other — a perfect synergy of out-of-this-world fantasy and stunning sensations inspired by real life phenomenon," said Nannette Zapata, chief operating officer at Fairchild Tropical Botanic Garden. "We can't wait to share the magic with visitors, our members, the community and beyond."
While exploring The NightGarden, guests can enjoy food and drink offerings by some of Miami's top-rated eateries.
The NightGarden will be open seven days a week, Sundays through Thursdays from 6 to 10 p.m., and Fridays and Saturdays from 6 to11 p.m. (Holiday hours vary; blackout dates apply. Check website for full schedule.)
Presale tickets can be purchased at TheNightGarden.com for as low as $20 for children under 10 and $28 for adults, and available at the Shop at Fairchild box office. Season passes are available for unlimited visits to The NightGarden, and special prices offered to Fairchild members.
Guests are invited to capture their experience and share the magic on social media by tagging @NightGardenExperience on Instagram, Facebook and Twitter and using the hashtag #NightGarden.
Fairchild Tropical Botanic Garden is located at 10901 Old Cutler Rd. For more information on The NightGarden and to purchase tickets, visit TheNightGarden.com.