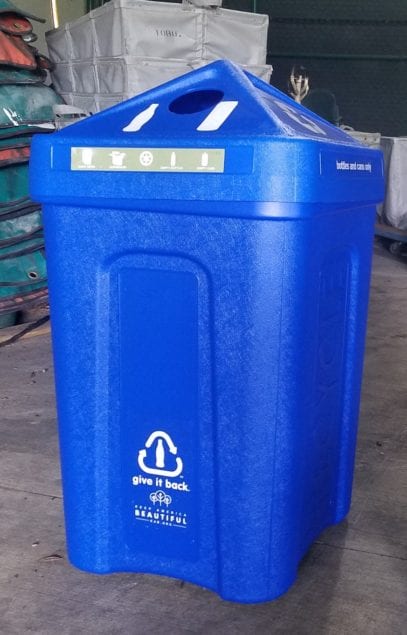 The Coca-Cola Company, with the help of national nonprofit Keep America Beautiful and other partners in communities across the country, reached a milestone this year. The Company and its partners achieved the 1 million mark for recycling bins donated to communities.
As part of the 2017 Coca-Cola/Keep America Beautiful Public Space Recycling Bin grant cycle, 3,250 bins are currently being distributed, including 20 bins to the University of Miami.
"Coca-Cola has a long history of supporting community recycling programs in an effort to ensure that our packaging is recycled and reused," said Bruce Karas, vice president of sustainability for Coca-Cola North America. "Through partnerships like Keep America Beautiful, we are able to improve access to recycling while also continuing to make progress towards our global goal of collecting and recycling a bottle or can for every one we sell."
Students and visitors to the "U" can expect to see new blue recycling bins on the Whitten University Center patio and the Rock Plaza during special events, when additional recycling containers are needed. The bins, which have a restrictive opening, are designed specifically for cans and bottles and are expected to control recycling contamination. This grant represents another step in UM's commitment to waste reduction, which involves everything from single-stream recycling to paper reduction and reuse initiatives.
"Coca-Cola is a great partner of UM's, and the foundation has been working with Keep America Beautiful for decades in fulfilling their mission, to inspire and educate," said Teddy Lhoutellier, sustainability manager for the university.
The Coca-Cola/Keep America Beautiful Public Space Recycling Bin Grant Program supports Coca-Cola's newly announced "World without Waste" initiative, which aims to collect and recycle a bottle or can for each one the company sells by 2030.
For the past decade, The Coca-Cola Foundation and Keep America Beautiful have offered the recycling bin grant program to 1,000 communities across the U.S. and Puerto Rico to address one of the primary barriers to recycling in public spaces — access and convenience. In addition to the grants, Keep America Beautiful provides technical best practice guidance to grant recipients and organizations about setting up effective away-from-home and on-the-go recycling programs.
Coca-Cola has invested more than $13 million in innovative partnerships that bring curbside recycling programs to communities, help educate Americans on where to recycle, and support large-scale recycling infrastructure. With the addition of the latest Coca-Cola/Keep America Beautiful recycling grant, as well as other recycling initiatives in partnership with The Recycling Partnership and the Closed Loop Fund, Coca-Cola and its partners will achieve the 1 million recycling bins donation milestone.
"To encourage people to recycle frequently, we need to make sure they have the proper bins available in as many locations as possible," said Helen Lowman, president and CEO of Keep America Beautiful. "The support Coca-Cola has given us to continue with this grant program allows us to address this issue and create thousands of new opportunities for people to recycle in public areas across the country."
Grant recipients were chosen by Keep America Beautiful based on their potential to collect the most cans and bottles as well other considerations such as the potential to leverage further local investment in recycling infrastructure.
A 2009 study conducted by Keep America Beautiful showed only 12 percent of surveyed public locations had infrastructure to recover recyclable items. This lack of recycling opportunities is reflected in a separate national survey conducted for Keep America Beautiful in 2013, in which 92 percent of respondents said they recycle at home while only 41 percent indicated that they typically recycle in public spaces. In addition to providing more convenient opportunities to recycle, the Coca-Cola/Keep America Beautiful Public Space Recycling Bin Grant Program helps to address the issue of confusion by providing bins that incorporate recognized best practices for bin design and labeling.
Green U is the culmination of all efforts to increase sustainability throughout the University of Miami while educating the community to be stewards of the environment. From transportation solutions to recycling programs, public-awareness campaigns to research initiatives, Green U is helping the University of Miami grow greener every day. For more information, visit greenu.miami.edu.