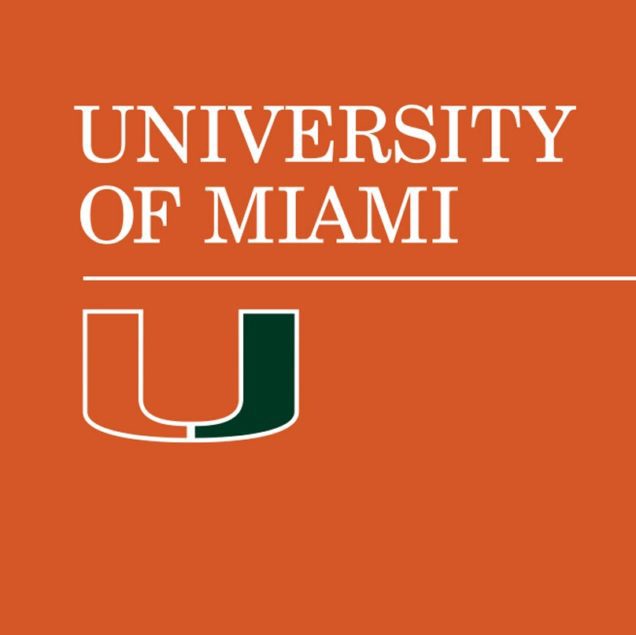 On Monday, May 1, more than 500 students, alumni, faculty and industry partners filled the ballroom of the Donna E. Shalala Student Center for the inaugural Senior Design Expo. Fifty-eight teams showcased innovative projects from across all five of the College's engineering departments: biomedical; civil, architectural and environmental; industrial; electrical and computer; and mechanical and aerospace.
The Senior Design/Capstone course is a culminating design project required of all undergraduate students at the University of Miami College of Engineering. Working in interdisciplinary teams and under the guidance of faculty and industry professionals, students designed and built solutions to address real-world challenges – including prototypes, new designs or new processes. UM President Julio Frenk stopped by to see the student projects and congratulate all of them.
"The Senior Design Expo celebrates students' academic achievements as they presented their final capstone projects to fellow students, faculty, parents, alumni and industry partners," said Jean-Pierre Bardet, dean of the College of Engineering. "This was a first-of-its-kind event for the College and truly showcased all of the innovative ideas, some of which may lead to commercial enterprise in the future. This exposition allowed our students to articulate the impact of their work to the public at large and exemplified the impact of a UM education. In fact, recruiters and industry leaders were so enthusiastic they made a few job offers on the spot!"
Michael Jarro, regional director of distribution operations for Florida Power & Light, talked about FP&L's five semesters of partnering with the College. Students in the capstone course worked with FPL on four different industry problems related to two of the company's main divisions: power delivery and power generation. The company worked with students throughout the capstone experience, as they explored solutions to real-life issues and provided valuable insights into current problems.
Attendees were able to cast votes for the top project through a "Monopoly Money" voting system, in which attendees were provided $1,500 to invest in projects. The top three teams with the largest investments were awarded a Senior Design Project Popular Vote award.
All teams displayed posters and gave presentations during the expo. Some also had working prototypes, computer simulations and videos. Cash prizes were given to winners in the People's Choice category. The categories and winner teams:
Logo Design Contest Award – Samantha Gangi
Best Senior Design Project in Biomedical Engineering – Surface Electromyography Monitoring Device for Parkinson's Patients – Oldrin Bataku
Best Senior Design Project in Civil Engineering – The Byron Carlyle Theater – Jennill Santana, Jessica Carralero, Ebone Ross, Michelle Stanley, Rawan Tashkandi and Alexander Briel
Best Senior Design Project in Electrical and Computer Engineering – Keytection: A Key Detection Algorythm – Maria Gutierrez, Jesse Jarrett and Carlos Zerpa
Best Senior Design Project in Industrial Engineering – FP&L Wind Turbine Gearbox Life Analysis – Zachary Bohl
Best Senior Design Project in Mechanical and Aerospace Engineering – Design of a Next-Generation Business Jet Incorporating Co-Flow Technology – Brendan McBreen, Thomas Mills, Christian Perez and Chamouo Youkap
Best Expo Display – Profilometry Fixture Design for CT Airfoils – Alexander Christodoulides, Hannah Lethcoe, Thomas Nanni and Essence Sugar
People's Choice Award: Popular Vote 3rd Place – Advanced Simulation – Alyssa Guller
People's Choice Award: Popular Vote 2nd Place – Ryder Physical Damage Dashboard – Felipe Nunez and David Cortes
People's Choice Award: Popular Vote 1st Place – Anthrex Swivelock Eyelet – Fabio Ketter, Nicholas Panzo, Jason Blanke, Kai Weitekamper and Andrew Small
Industry Impact Award – Automated Well Plate Imaging System – Connor Verheyen, Cornelis Rowaan, Daniel Gizachew and Bryan Gatto
Overall Best Senior Design Project for the College of Engineering – The Byron Carlyle Theater – Jennill Santana, Jessica Carralero, Ebone Ross, Michelle Stanley, Rawan Tashkandi and Alexander Briel
Several industry sponsors, including Florida Power & Light and Ryder, funded the senior projects.
The Senior Design Expo Committee included faculty members Ines Basalo, Nina Miville and Matthew Trussoni.
"The UM College of Engineering Senior Design Expo was a tremendous success. It was the first time we had all of our seniors presenting in one room, and the scene fostered cross-disciplinary engagement," Trussoni said. "It was very impressive to see the wide array of projects completed by each department. The posters presented by the student teams showcased the dedication, intelligence and work that they put into their projects."
The College plans to make the Senior Design Expo an annual event. Thank you to all who participated, coordinated, judged and attended.
Congratulations to all the winners.