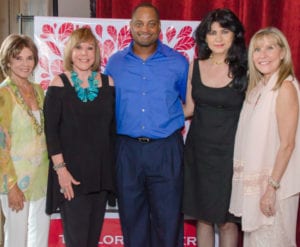 The fall social season will officially kick off with an exciting evening of dancing, dining and drinking in your favorite Bollywood fashion.
Saturday, September 10 th   7PM at Private Key Club in Wynwood Art District.
The event will celebrate the 5th anniversary of the Lori Brener Scholarship Fund of the Women's Committee Big Brothers Big Sisters.
Sponsors for the event include, Brugal Rum, VOGA Italia,ABC Bartending School, Pete Diaz Productions, DOS Company, KaufmanRossin, Norma Jean Abraham, Aislyn Mc Donald, Gladys Rustan-Hernando, Contempo Linen & Event Rentals , Michelle Candelaria of Halo Event Designs ,Walter Prio, Fast Signs, TFE and ExxonMobil.
Julia Alba is this year's Chair, Sonia Gibson, Miriam Salazar Co Chairs and the luxurious silent auction has been chaired by Neyda Raola and Susan Rutrough.
The evening will honor Darrin Smith, a former "Little" of the program and now a Big Brother.  Today he is National Ambassador for Big Brothers Big Sisters; he is in the University of Miami Football Hall of Fame as well as a Two Time Super Bowl Champion.
Guests will indulge in extraordinary cocktails and dinner buffet by prominent chef Les, an open bar, enjoy the spinning of Silent Revolution and have an opportunity to bid on exciting auction items that include a week in a luxurious apartment in Venice, Italy.   An added attraction this year will be a Gallery of Art Work by prominent local artists. 
Lori Brener was born in Miami, Florida on September 14, 1966. She graduated from Coral Park HS in Miami and the University of Florida with a degree in Fine Arts and a minor in Drama. Brener started her career as an actress, but her passion was to work behind the camera. She moved to Los Angeles and went on to become a successful commercial, video, and film producer. Brener became involved with Big Brothers Big Sisters and volunteered at numerous events alongside her mother, longtime Women's Committee member Miriam Salazar.   
The Women's Committee established a Scholarship Fund in 2006 to raise money that would be awarded to "Littles" in any of the Big Brothers Big Sisters mentoring programs. When Lori passed away unexpectedly in 2009 at the age of 42, the Women's Committee renamed the scholarship in her memory.
"We are so happy that our Women's Committee chose to honor Lori's memory by enabling future generations of our young people to have the opportunity to go to college or vocational school and succeed in life," says Big Brothers Big Sisters CEO and President Lydia Muniz.    
Since its inception, The Women's Committee of Big Brothers Big Sisters Lori Brener Scholarship Fund has awarded scholarships to deserving Little's who are now pursuing their educational goals at various Universities.  For more information on the Lori Brener Scholarship fund or to obtain tickets for this exciting event, contact Marisol Garcia mgarcia@bbbsmiami.org (305) 644-0066 x 935. Ticket prices are $150 per person. 
About Big Brothers Big Sisters 
Big Brothers Big Sisters, which is the oldest and largest youth mentoring organization in the United States is now celebrating its 100-year anniversary.  BBBS of Miami, founded in 1958, is one of the largest local agencies in the country, serving more than 6,000 local children, volunteers and families through professionally supported, one-to-one relationships with caring adult volunteers. For information about Big Brothers Big Sisters of Greater Miami, visit  www.bbbsmiami.org or call (305) 644-0066.