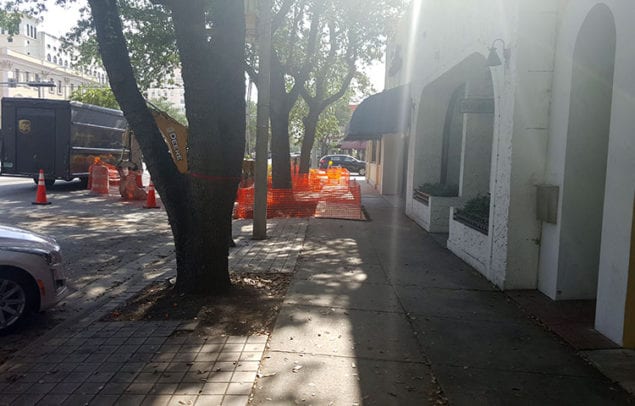 The Miracle Mile and Giralda Avenue Streetscape Project — a renovation and beautification of both streets — may be completed sooner than anticipated as the City of Coral Gables has approved nighttime construction in an effort to minimize the impact on merchants, restaurants and patrons.
Specifically, roadway reconstruction, tree removal and relocation and drainage work will take place from 10 p.m. to 7 a.m. from Sunday through Thursday.
"This adjustment to the schedule with major roadway reconstruction taking place overnight — when there are fewer pedestrians and vehicles — will be a benefit to our merchants, their customers and the construction crews who will be working diligently to complete the project as quickly as possible," said Marina Foglia, executive director of the Business Improvement District (BID) of Coral Gables.
In an effort to support businesses during construction, the city will be installing business continuity and wayfinding signage for vehicles and pedestrians. It also has agreed to allow additional signs for businesses to place on the front and back doors of establishments and directories in the parking garages.
Additionally, the BID will display promotional murals in municipal parking garages, and parking attendants will be allowed to distribute fliers to promote businesses. Also, trolley hours will be extended and days of operation will expand to Saturdays and holidays. A block party is being planned after the completion of each section to celebrate the progress.
Before starting overnight construction, the general contractor, Ric-Man, will conduct a baseline acoustical survey. Then, throughout construction, noise mitigation techniques will be implemented to minimize impacts on the adjacent residential areas.
Sidewalk improvements, including widening of the sidewalks, will take place during standard construction hours from 5 a.m. to 3 p.m., Monday through Saturday. Construction, which began in June, will occur in eight phases through next June and be conducted a block at a time in half-block increments.
The project has been the BID's priority for more than a decade.
"We are working very closely with the city and general contractor to minimize the impact to merchants and patrons," said Mindy McIlroy, BID board president.
Additionally, Miracle Mile's centralized valet parking system, which allows patrons to drop off and pick up their vehicles at any one of seven valet stations along Miracle Mile, will continue to be discounted to $5 per day for the duration of the construction.
"The flexibility being offered by the city will provide the leeway necessary for business continuity," McIlroy said. "Our priority is to maintain business as usual while creating South Florida's next premier shopping and dining destination."
The $21.6 million construction project will transform the heart of Downtown Coral Gables with wider sidewalks to allow for greater pedestrian flow and use of outdoor dining and seating; a change from angled to parallel parking; resurfaced streets and improved drainage.
The project will take approximately 18 months to complete.
General information and construction schedules can be found at www.gablesstreetscape.com or by calling 786-444-6383. For more information ab out the BID and a directory, visit www.shopcoralgables.com.