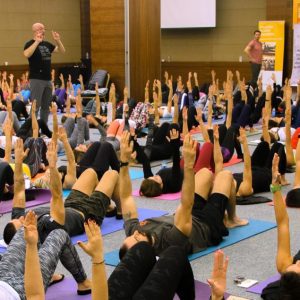 Dr. Brent Anderson is on a mission to change the face of health care, and he's starting with awareness and movement.
The founder of Polestar Pilates will host The Polestar Experience Jan. 26-28 at the University of Miami's Newman Alumni Center. The three-day event will help individuals improve their health through science, movement and emotion. In addition to Anderson, speakers include international educators Juan Nieto and Alexander Bohlander, as well as nutritionist Dr. John Lewis.
"It's necessary for us to make a change in our communities and our perception of healthcare," Anderson said. "We need to think of, 'what do we need to do to be healthy?' and not, 'how do we manage sickness?'"
The conference will address key factors for a healthy lifestyle including nutrition, new eating habits and movement. Pilates sessions will be offered by wellness experts Shelly Power and Christi Idavoy. The interactive programming is a unique opportunity to explore mindfulness and wellness in an intimate setting with some of the top educators in healing and experiential learning. Continuing education credits will be available.
Anderson is the founder of the Miami-based Polestar Pilates in Miami and is a leading authority in performing arts medicine and Pilates-evolved techniques for rehabilitation. Polestar Pilates integrates Pilates with current research and practice in orthopedics, sports medicine and movement science for rehabilitation, improved motor control and overall health and wellness. Anderson began his physical therapy career nearly 30 years ago in California and is a long-time member of the American Physical Therapy Association and International Association of Dance Medicine and Science. He earned his Ph.D. in physical therapy from the University of Miami (UM) and holds bachelor's degrees in health science and physical therapy. He is an adjunct professor at UM.
Registration for The Polestar Experience can be completed online at www.polestarexperience.com.  To learn more, call 305-666-0037 or email support@polestarpilates.com.