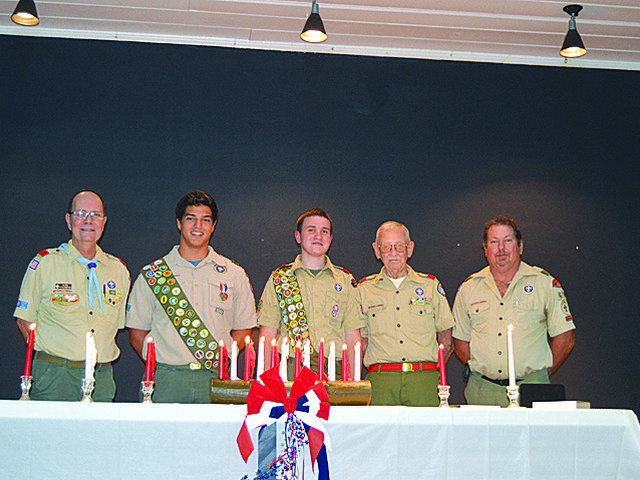 Sebastian Torra and Daniel (Danny) Auster of Troop 69 became Eagle Scouts in a June 6 ceremony at Silver Palm United Methodist Church, 15855 SW 248 St.
Auster became a Cub Scout in first grade at the age of 6. He joined Pack 69, which is sponsored by the Silver Palm United Methodist Church where Cub Scout meetings are still held today. He remained a Cub Scout until fifth grade and advanced to Webelos II, moving over to Boy Scouts and Troop 69.
Scouts move through the ranks such as Scout, Tenderfoot, Second Class and First Class before moving on to the coveted rank of Eagle Scout. Scout spirit and leadership must be proven along with earning a total of 21 merit badges.
He planned; developed, and gave leadership to his Eagle Project which consisted of building two large garden boxes for Summerville
Advantage Academy. He spent many hours raising the funds and building the boxes along with other Scouts, Scout Parents, and Parents of the school so that the students at Summerville Advantage Academy could learn about growing their own food.
Daniel attained the rank of Eagle Scout on May 8, 2013 at the age of 15. Only 4 percent of all boys in Scouting achieve this rank nationwide.
Daniel was the first boy in 15 years to attain an Eagle Palm Pin in Troop 69. He has been the highest ranking Scout in his troop earning the bronze, gold and silver Eagle Palm Pins.
Daniel's time as a Boy Scout came to a close on June 16, when he turned 18. He is moving on through the Venture Crew.
He will be attending Miami Dade College in the fall pursuing a career in Hospitality and Tourism. Daniel resides with his parents, Donna and Andrew Auster, and sister, Kimberly, in the Redland area.
Torra joined Boy Scouts of America as a Tiger Cub with Pack 530 at Good Shepherd Catholic Church, where he earned the highest rank for Cub Scout badge, Arrow of Light. Sebastian moved to Troop 69 in fifth grade to continue with Boy Scouts.
His Eagle project consisted of coordinating 173 volunteer hours at Jack D. Gordon Elementary School on Jan. 16. Sebastian created a memorial/butterfly garden to honor two beloved elementary school teachers (Christine Rumpf and Ileana Frias-Peyron) who were killed in a car accident. Channels 4 and 6 were in attendance at the groundbreaking ceremony.
"I am very happy how the memorial/butterfly garden came out and that it is a place where the students and faculty at Jack D. Gordon Elementary School can go to reflect," he said.
He attended the Rank of Eagle on Mar. 11.
Sebastian graduated from Felix Varela Senior High School and is attending Miami Dade College/FIU to pursue a degree in Computer Engineering.