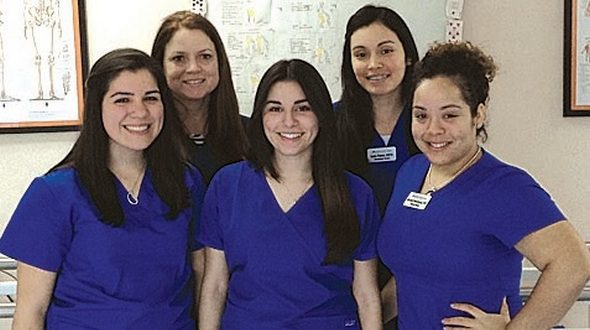 East Ridge at Cutler Bay, South Florida's only life care community, is partnering with several of the area's colleges and universities to offer students internship and volunteer opportunities at the community's rehabilitation center.
Miami Dade College School of Health Science, Florida International University College of Nursing and Health Sciences, and Keiser University have students participating in occupational and physical therapy internships at the senior living community.
"The internship programs offer a firsthand learning opportunity," explained Dayami Madrigal, program director for rehabilitation services. "Each student is assigned to a licensed therapist for supervision when having direct contact with patients. Students' midterms, case studies, and final exams with evaluations are conducted right here at the community."
The student internship with Miami Dade College is within the physical therapy program and has an eight-week rotation to coincide with the school's semesters.
FIU offers Level I and II fieldwork opportunities for students in their first year of the school's occupational therapy program. Observation clinical exposure is offered to two students in the school's Department of Physical Therapy (DPT) and Masters of Science occupational therapy (MSOT) programs.
Additionally, FIU College of Nursing and Health Science offers students volunteer opportunities to observe daily therapy sessions in the community's wellness center.
"These internships programs are invaluable," said Victoria Duvall, executive director of East Ridge. "Students are gaining work experience while receiving perspective and insights working with geriatric patients. Interacting with heathcare professionals can also help in future job opportunities."
The community's Health Center, which is available for recuperative care and short and long-term skilled nursing care, is both Medicare and Medicaid-certified and provides care to both East Ridge residents as well as the general public. The Rehab Center staff also provides services to both patients and outpatients.
Located at 19301 SW 87 Ave., East Ridge at Cutler Bay offers a continuum of care, including independent living, assisted living and respite care. For more information or a personal tour, call 305-256-3564 or visit www.eastridgerc.com.