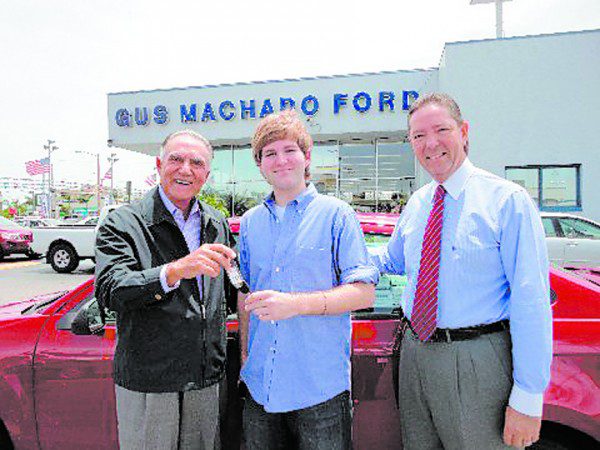 By Lee Stephens….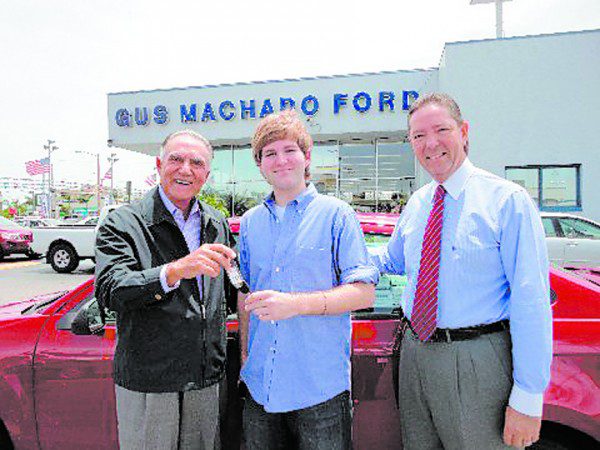 Gus Machado Ford and the Gus Machado Family Foundation recently donated a new 2010 Ford Focus to the American Cancer Society to help it raise funds at the Relay for Life events in the Miami area.
The funds raised during these events will help the American Cancer Society as it strives to achieve its mission of "eliminating cancer as a major health problem by preventing cancer, saving lives and diminishing suffering from cancer, through research, education, advocacy, and services."
On July 14, Gus Machado, president and CEO of Gus Machado Ford, and Victor Benitez, vice president and general manager, presented Alexander Kurtz, a junior at the University of Miami, with the keys to his new 2010 Ford Focus.
Lilliam Machado, Gus Machado's wife, said that she has been a volunteer with the American Cancer Society for over 25 years.
"My husband lost a brother to lung cancer and I lost my mother to cancer," she said. "We believe in helping the mission of ACS."
Throughout the years, Gus Machado has given his time, efforts and financial support to his businesses and community. In 2008, he created the Gus Machado Family Foundation with the purpose of contributing to multiple charitable organizations and establishing a legacy to leave behind for his family and community. In 2006 during a reception in Las Vegas, Ford Motor Company recognized Machado as a "Salute to Dealers" nominee for his compassion and dedication to the worthy causes he supports.
"God blessed me in many ways, so I can give back to others," Machado said.
Machado has dedicated his life to the automotive industry. In 1984, he purchased Johnson Ford, an existing Ford dealership located on W. 49th Street and 12th Avenue in Hialeah. He named it Gus Machado Ford, and has been servicing that community in the same location ever since.
Gus Machado Ford has two locations, one at 1200 W. 49 St. in Hialeah and the newest location at 15551 S. Dixie Hwy. in Palmetto Bay.
For more information, visit online at www.gusmachadoford.com.