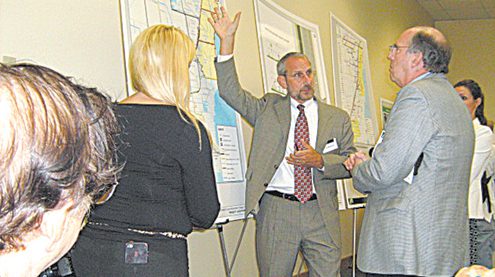 By Richard Yager….
A study analyzing potential redevelopment of the S. Dixie Highway (US1) Busway to create express lanes for daily commuter use got underway with two public meetings in early September.
A mixture of municipal officials and community activists heard details from Miami-Dade Expressway Authority (MDX) consultant Alan S. Brick-Turin about plans to create SunPass express lanes using the existing US1 Busway route. The proposal is designed to relieve congestion on S. Dixie Highway between Dadeland and Florida City.
The two-year Project Development and Environmental Study is designed to offer alternative use of the Busway to mitigate US1 traffic tie-ups, improve transit operations and preserve the existing pedestrian bicycle Greenway that runs parallel to the bus route.
A projected time line for the MDX study would produce "a build or no build" decision by November 2013, according to Brick-Turin.
Between that date and kickoff meetings held at the Coral Reef Branch Library (Sept. 7) and South Dade Regional Library (Sept. 8), consultants will hold a series of workshops and public meetings "to determine if a specific proposal or alternatives are feasible and can be funded," he said.
Technical workshops will take place during 2012 to review potential widening of the busway route to maintain managed lanes for both current bus service as well as transponder-paid express automobile lanes.
Questioned how the MDX became involved in a project not involving the five Miami-Dade expressways under its direct control, spokesperson Tere Garcia said the Metropolitan Planning Organization approved the project's transfer to MDX after a Miami- Dade transit report recommended the study.
While "Roll Back the Tolls" spokesman Carlos Garcia criticized the MDX role of converting existing free expressways to paid travel, others like Cutler Bay Vice Mayor Ernie Sochin praised the service as installed on I-95 "that shows paid expressway lanes work well for everyone; they're not just 'Lexus Lanes.'"
Both Palmetto Bay Vice Mayor Brian W. Pariser and Pinecrest Vice Mayor Bob Ross cautioned that a study should investigate all alternatives, Ross noting "adding express lanes to a busway could bring about unintended consequences, like increasing overall congestion on major east-west thoroughfares, i.e. SW 104th, 112th and 136th streets that cross over US1."
The study would review feasibility and costs of building overpass bridges at key east-west streets, including traffic controls safely permitting continued managed bus service side-by-side with commuter lanes, Brick-Turin said.
"We need to take a long-term as well as a short-term view," advised James McDonald, chair of the Transportation Advisory Committee for the City of Pinecrest. "Concentrating on more access for automobile travel" could be self-defeating, he said, advising that any study examine all potential transportation alternatives including longrange potential of Metrorail extensions.
Final recommendations on the corridor improvements are scheduled to be presented during a formal public hearing anticipated to take place by summer of 2013. The study area extends from SW 344th Street/Palm Drive to a point just north of where the Snapper Creek Expressway (SR 878) meets US1. The Busway route runs along the west side of S. Dixie Highway across from Pinecrest, Palmetto Bay and Cutler Bay.
As detailed to a Kendall audience during a preliminary meeting at the Dice House in November 2010, MDX then considered a secondary project linking a converted Busway above SW 98th Street to join the Palmetto Expressway (SR 826) to create combined toll and freeway travel from Florida City to eastern Kendall areas.
For details on the MDX project, visit MDXORT.com.