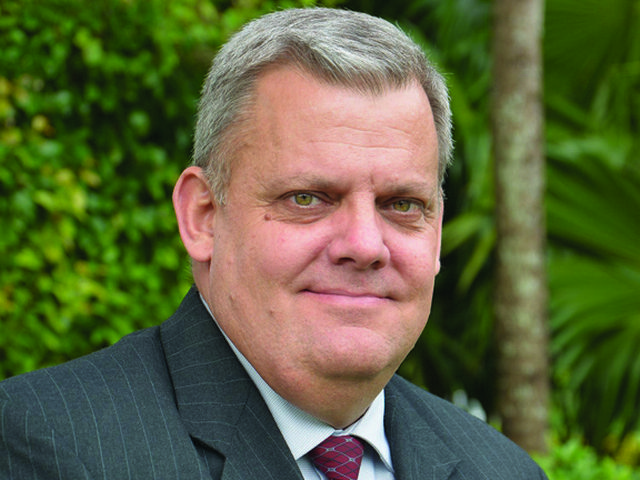 Jeffrey P. Merritt, a 25-year career executive in senior housing, has been named executive director of East Ridge at Cutler Bay, Miami-Dade County's only life care community. The announcement was made by Troy Hart, president of SantaFe Senior Living.
"Jeff Merritt brings a wealth of highly successful experience in the leadership, operations and management of senior living communities," Hart said.
Merritt is responsible for the management and operations of the community including independent living, assisted living residences and nursing care services. All related operations, including home health, engineering, maintenance, community relations, marketing, programs and events, food and beverage services and procurement areas have his oversight.
He will direct the upcoming opening of the new $70 million health center now under construction as well as the additional improvements which are underway throughout East Ridge.
"My vision is to provide a customer service approach to the operations of East Ridge, through all disciplines, to foster a more customer centered and focused delivery of services," Merritt said.
He was most recently administrator and executive director of a 361-unit upscale, community in Lawrence, KS following 15 years of experience in multi-facility operational management for Brookdale Senior Living.
A graduate of the University of Tennessee, with a BS in Business Administration, Merritt formerly was associated with Wellington Group Assisted Living Inc. as a regional director of operations after providing similar services for two assisted living management companies in Missouri and Tennessee.
East Ridge at Cutler Bay, now 53 years old, began expansion and renovations in April 2014 with the demolition of eight residential buildings to make room for its state-of-the-art health center, the first to be built in Miami-Dade in the past 15 years.
East Ridge draws from the neighborhood charm of suburban Cutler Bay and the vibrancy of Miami in a lush tropical setting of 76 acres, located at 19301 SW 87 Ave. The community offers a continuum of care, including independent and assisted living apartment homes, respite and skilled nursing care, and rehabilitation services.
For more information, call 305-256- 3564 for a personal tour or visit www.EastRidgeAtCutlerBay.com.