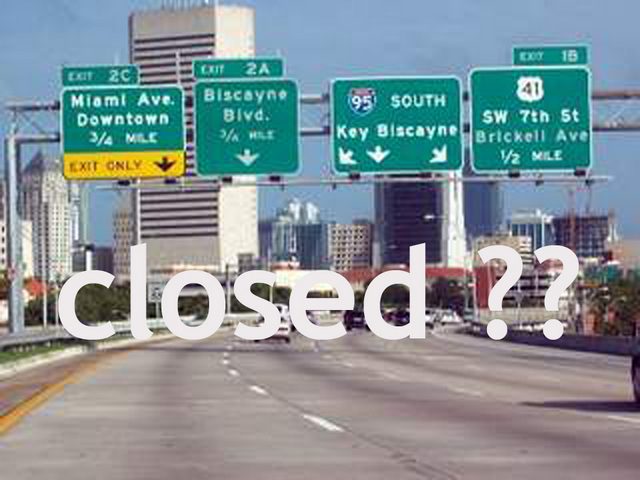 Get lost, buddy!
That is an easy thing to say to any driver in Miami-Dade County now.
I have lived here for most of my life, as has my wife, and yet when we tried to make a simple trip as we tried to accomplish this past week to Fort Lauderdale we got so miserably lost that I began to feel real sorry for any out-of-towners trying to find their way around.
To begin: driving north on Interstate 95, which we have both done many many times, we intended to use the express lanes because the traffic as expected was brutal in the northbound regular lanes. We suddenly began seeing all kinds of warnings and notices alleging that the express lanes were in fact closed. There were no instructions for a workaround so we just kept going hoping that we would eventually be directed to the non-express lanes. This never happened and we found ourselves on the express lane with no markings to tell us where to get off or how far we should travel using this lane which had many signs saying "express lanes closed," but yet there were literally thousands of cars speeding along as they normally do.
What does one do? Frankly, I just don't know. After making a whole bunch of turns, U turns, etc., we finally got to our hotel destination. It wasn't easy but we got there after spending literally hours in traffic and praying like everyone that eventually all of these cars will be using a non-existent transit system.
That was fine up to this point. We departed on a cruise out of Fort Lauderdale with quite a few thousand people on the same ship. I don't think I had ever been on this large ship before and began to wonder how could anything that big actually float.
Float it did, all the way to the Dominican Republic and back all the while feeding these massive hordes with the most delicious-looking and mediocre-tasting food I have ever had. The ship itself was magnificent with beautiful stairways, fancy ceilings and floors. and perhaps the nicest crew of people I have ever encountered, most from out of this country, but in this case that is a good thing.
Sorry, Donald, but that's the way things are.
There is nothing quite so relaxing as sitting on the balcony of a huge ship and reading as you glance out over the endless sea covered by waves and birds. The relaxation ended once the band started playing on the upper deck which was fine for those up there dancing, etc., but took away some of my peace and tranquility.
There is also a new phenomenon with these balcony ships that people communicate with each other by shouting up-and-down the decks and across the ship. Try reading a book with all this going on.
Okay, the crew, in addition to everything else, did a magnificent job of gathering up the luggage and getting it to a place outside the ship where you can take your transportation home. One small problem however: being of the modern generation we chose to use UBER instead of an expensive cab ride to our hotel. We were advised of what kind of car would pick us up and the driver's name. After watching literally hundreds of people getting into Toyotas that were apparently sent for them, no one showed up for us so we ended up taking a taxi to our hotel. It cost a good deal more but at least we got there.
Now, being the gentleman that I am, I allowed my wife to take the wheel of our car and get us home. We took the logical route of driving south down I-95 and apparently missed an important turn off to continue on I-95 and ended up somehow on Route 112 which went nowhere near where we wanted to be. We kept plodding along trying to find a road that would get to the Palmetto Expressway, or Florida's Turnpike, or something that we at least knew went North and South towards our home.
After we finally ran out of road we just kept going and going and eventually ended up on SW 137th Avenue. Finally saw a sign to SW Eighth Street in a location I have never ever been to in all my years of living here. The one thing I felt confident about is that what it would eventually intersect with one of the major North-South highways and get us home.
Of course. my wife thanked me for allowing her the opportunity to familiarize herself with our fabulous road system in Florida.
As well as everything being totally screwed up, the construction that seems to go on forever doesn't help. I know that there are highly paid engineers designing all of this stuff but I think it might be a good idea to put them in a car and let them drive around and see how impossible it is to get from point to point in our part of the world.
At the many local meetings I attend the issue of transit seems to come up a lot. This is where I usually get a lot of boos, because I am not one of the many who seem to think that some form of rapid transit will get us where we are going much faster. I asked the others at the meetings to look around at the other automobiles while they are stuck in traffic and ask themselves, would these people use a train or a bus if it were available and how would they get from the train or bus stop to their place of business, school, or home.
The general feeling is that if everyone else is using transit that will leave the roads free and clear for us. I only wish that were true.