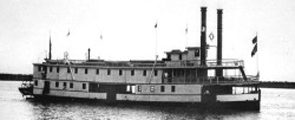 Henry Flagler's "Navy" will be the topic of Bob Naumann's presentation on Thursday, Mar. 22, 7 p.m., at Homestead's Old Town Hall Museum, 41 N. Krome Ave. The doors will open at 6:30 p.m. and seating is limited.
The free presentation will focus on Henry Flagler's maritime interests starting with the Florida East Coast Steam Ship Company (FECSSC). The FECSSC ran ships from Miami to Nassau, Key West and Havana.
Naumann will continue with the floating equipment used to build the FEC Railway Key West Extension, which was completed 100 years ago. He will highlight the more than a dozen Mississippi type stern wheel steamers used in Biscayne Bay and the Florida Keys to build the extension.
The FEC Railway was its own contractor for the construction of the extension. Previously unseen photos of the steamboat Saint Lucie, which sank near Turkey Point in 1906, will be shown.
Student actors from the South Dade High School Drama Club will give dramatic accounts of the sinking of the Saint Lucie near Turkey Point and Quarter Boat No. 4 near Long Key.
Naumann is a graduate of New York Maritime College, a merchant marine engineer, sailboat captain, marina owner, historian and treasurer of the Florida Pioneer Museum. He is an avid history researcher and talented mapmaker.
For more information call Ruth Campbell at 305-242-4463 or Bob Jensen at 305-248-0976.