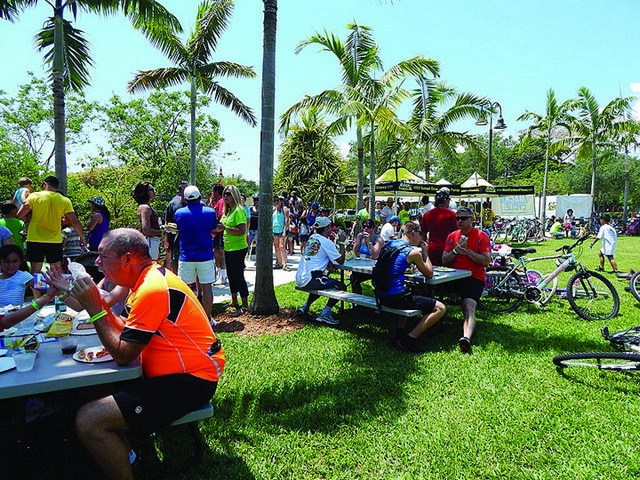 [dropcap]A[/dropcap]s it did last year, Earth Week's activities will conclude with a special event conducted jointly by the Village of Palmetto Bay and the Town of Cutler Bay. The "Bike- B-Que" returns on Saturday, Apr. 25, with free food, music and fun activities.
A police escorted 5.5-mile bike ride along a scenic route will begin at Lakes by the Bay Park, 8551 SW 216 St. in Cutler Bay. Registration begins at 10:30 a.m.
The first stop will be at the Deering Estate Chinese Bridge where there will be a brief presentation from a Deering Estate naturalist. The second and last stop will be at Ludovici Park, 17641 Old Cutler Rd. in Palmetto Bay, for the barbecue, bike rodeo and fun activities for kids.
Registration, waiver and a helmet are required for participation. Free helmets will be provided courtesy of the Town of Cutler Bay, while supplies last.
Cutler Bay town manager Rafael Casals said he is looking forward to the annual event.
"This event provides both our town residents and our friends from Palmetto Bay an opportunity to bike ride along both of our cities and enjoy our beautification projects," Casals said. "Last year's event was a great success. It is always a pleasure when both our town and neighboring village can unite and celebrate Earth Day together."
Sponsors include Bike 305, StateFarm Insurance, Nicklaus Children's Hospital and Safe Kids, according to Palmetto Bay Parks and Recreation director Fanny Carmona- Gonzalez.
"We're going to have different raffles with prizes throughout the event," Carmona- Gonzalez said. "We're going to have music. It's just a fun family day; it's open to anybody."
Pre-registration forms are available at www.palmettobay-fl.gov or at www.cutlerbayfl.gov. Forms will be accepted until Thursday, Apr. 23, 4 p.m., via fax to 305-259- 1290 or email to events@palmettobayfl.gov.