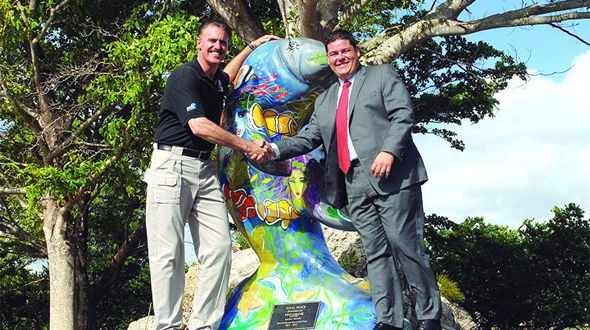 TotalBank recently donated the sculpture "Total Peace" by local artist MANO to Zoo Miami. The artwork, now situated just south of the zoo's new Playworld Playground area, depicts a manatee with its offspring and originally graced the corner of Red Road and Sunset in front of TotalBank's Red Sunset Banking Center.
The sculpture was a part of the South Miami Manatee Fest, a public art event used to raise awareness for local natural resources, waterways, wildlife and aquatic treasures.
TotalBank supports Zoo Miami's commitment to worldwide conservation and its efforts to heighten appreciation for the world's wildlife in the children of our community.
Zoo Miami is located at 12400 SW 152 St. General zoo admission is $15.95 plus tax per adult and $11.95 plus tax per child (3-12). Hours are 9:30 a.m.-5:30 p.m.; ticket booths close at 4 p.m. Parking is free. Annual pass holders and children 2 and under under are free.
For more information on Zoo Miami, visit www.zoomiami.org or call 305- 251-0400. More information about TotalBank can be found at www.totalbank.com