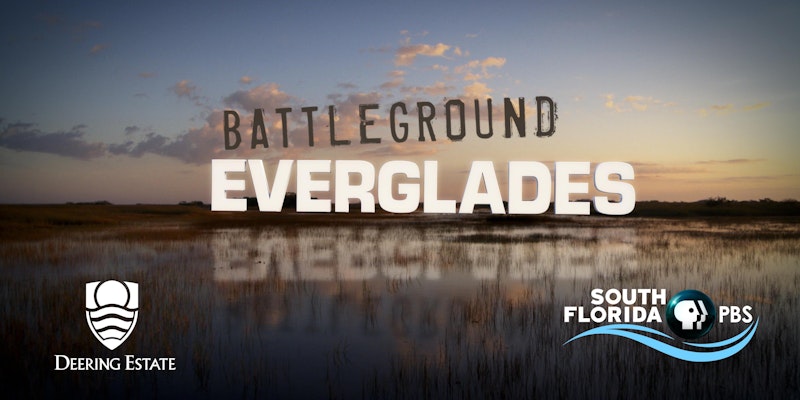 Are you environmentally conscious? Mark this on your calendar. The premiere of the film, Battleground Everglades, will take place at the Deering Estate on Wednesday, January 24 at 7 p.m. to 9 p.m. Presented in partnership with South Florida PBS and Changing Seas, Battleground Everglades – "Dangerous Seas" Episode – explores the struggle to save one of the world's most revered wetlands, Florida's Everglades. Devastated by a century of drainage and development, the entire Everglades watershed is suffering from man-made pollution, habitat destruction and species decline. Hosted by Charles Kropke, author and well-known Everglades expert, the 6-part series showcases dramatic challenges and innovative solutions to restore this World Heritage Site. As more and more countries battle sea level rise, invasive species, algae outbreaks and other environmental issues, the Everglades is poised to become a beacon of learning and hope.  Reception at 7:00 p.m. – film at 7:30 p.m. – followed by Q&A with experts. The event is free and open to the public. The Deering Estate is located at 16701 SW 72 Avenue, in Palmetto Bay. For information call 305-235-1668, or reserve free tickets at www.eventbrite.com/e/premiere-battleground-everglades-at-the-deering-estate-tickets-41877591002.
Free Community Dance Party. It takes place at the South Miami-Dade Cultural Arts Center on Friday, January 19, at 7:00 p.m. in the Back Yard Concert Lawn & Plaza. Admission is FREE, no ticket required. Come dance under the moonlight and party with the performers from STREB Extreme Action. Live music performed by Locos Por Juana along with DJ TrookLyn. There will be food vendors, outside and inside bars, giveaways and special activities for kids. "Get a sneak peek of this thrill-seeking group of artists who perform daredevil choreography in a thrilling, heart-stopping investigation of action." The South Miami-Dade Cultural Arts Center is located at 10950 SW 211 Street in Cutler Bay.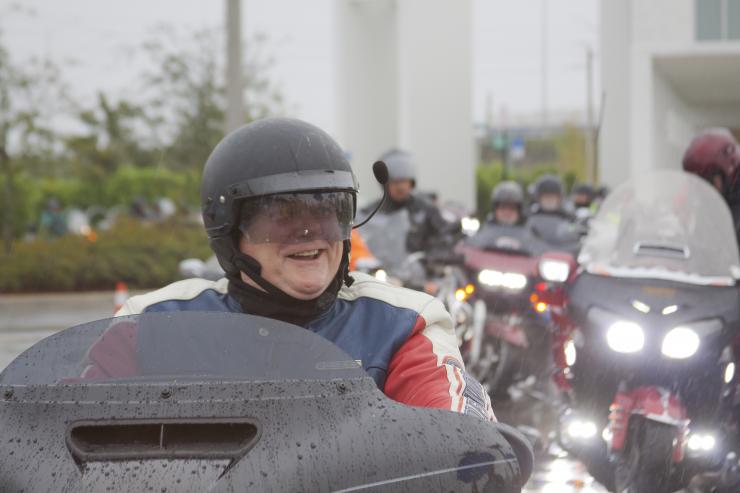 Motorcycle enthusiasts, this may interest you. It's time again for the Archbishop's Annual Motorcycle Ride, in memory of Phil and Charlotte Peterson. You are invited to join the Archbishop for this fun event on Sunday, February 4. All proceeds raised are used to support St. Luke's Center, a program of Catholic Charities in the Archdiocese of Miami. Most of you are familiar with Peterson's Harley Davidson location in Cutler Bay, but this event features a ride to Peterson's Harley Davidson North for BBQ, prizes and entertainment. Cost $20 per bike, which includes 3 raffle tickets. It begins at Our Lady of Guadalupe Church, 11691 NW 25 Street, Doral, with 8:30 a.m. Mass. Then at 10:00 a.m., Kick Stands Up with Bike Blessing. Please contact the Development Office with any questions or concerns at 305-762-1054 or email jorlandi@theadom.org, or visit https://give.adomdevelopment.org/motorcycle-ride.
Thought of the Day
It is always the secure who are humble. – G.K. Chesterton
Gary Alan Ruse contributed to this column.
Got any tips? Contact me at 305-669-7355, ext. 249, or send emails to Michael@communitynewspapers.com.