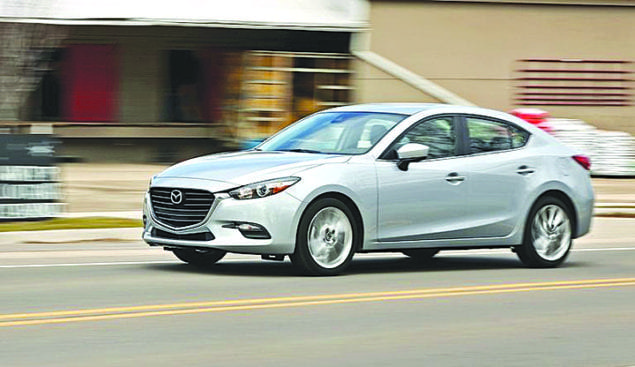 The Mazda3 has won many awards over the years and the 2018 Mazda3 Grand Touring 4 door continues that wining tradition by hitting a grand slam. Mazda3's were always a cut above the rest of the cars in their class. Near-premium interiors, zippy road handling, and sharp looks all combine to make a car that is well worth what you pay for it.
Performance
For 2018, the Grand Touring model comes equipped with a 184-hp 2.5-liter four-cylinder engine standard. This is a boost up from the base trim that only gets a 155-hp 2.0-liter engine. The GT comes with standard emergency braking (which only works at low speeds).
The Mazda 3 was not designed to be a performance car as such. But at the same time, it's not your typical grandma grocery-getter. The car has subtle nuances in the way it drives which almost makes you think it might be related to a faster, more powerful Mazda. Twisty roads are handled with the greatest of ease thanks to the responsive suspension.
Overall the Mazda 3 will not win any drag races, but it's still a blast to drive. Keep your eye on the speedo as you can easily go over the speed limit when having fun. Coming to a dead stop from 70mph will take you 170 feet. Not bad, but still 10 longer than other cars in its class.
Interior
2018 gives the Mazda 3 illuminated vanity mirrors and sunglass overhead storage as standard equipment for the Touring model. Some people will love them, others will never use them at all. But hey, free is free, right?
There is plenty of room in the front and back of the car for 5 adults. A 6' tall grown man can easily enter and exit the drivers seat with no issues whatsoever. While the rear seats are rather comfy, you'd probably wouldn't want to sit in them for a 24-hour non-stop cross country drive.
The ergonomics of the interior and dashboard are noteworthy. Leather seats, contrasting stitching, fancy gauge cluster, and digital speedometer all add up to best in class interior. The cupholders, dual-zone climate control and dashboard are all laid out very intuitively.
The infotainment center is carried over from the 2017 model with no change. It's easy to use and intuitive. A 7.0-inch touch screen and control buttons on the steering wheel mean the information you seek will only be a quick finger touch away. The Grand Touring is the only model to get navigation and it's only basic navigation – no fancy bells or whistles were included.
Safety
As with any compact car, safety is always a concern. The IIHS gave the Mazda3 a Top Safety Pick+ for 2017 and that should carry over into 2018. Nothing has changed in regards to the 2018 model, other than a few new safety features being added such as lane assist, automatic high-beam headlines and adaptive cruise control.
Conclusion
The 2018 Mazda3 Grand Touring blends sharp styling, peppy road manners, and a higher end interior into a car worthy of buying. The Grand Touring is the only model you should get as the extra features are well worth the slight increase in price. It starts at $24,770 and a nicely equipped one can be had for only $26,370.