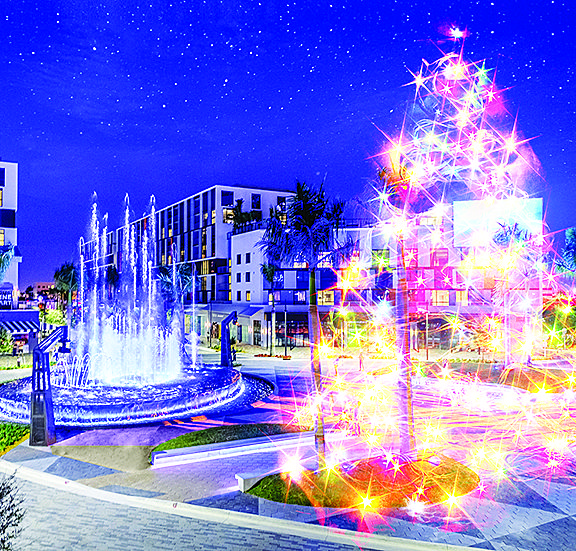 In celebration of CityPlace Doral's first holiday season, famed Latin radio DJ Javier Romero will host an energetic party on the entertainment plaza – topping off what is promising to be Miami's most exciting new Tree Lighting Ceremony, Saturday, Nov. 18, from 4 p.m. to 11 p.m.
Locals and guests will enjoy live performances by Flavio Amador & The Playtime Band, along with local dance troupes and Dance South Florida who will perform "Holiday Fiesta" – a dance telling the story of how different cultures in the world celebrate the holidays.
In addition, the iconic fountain will be lit up red and green and will debut a new set of water show songs, including classics like Mariah Carey's "All I Want For Christmas Is You" and Jose Feliciano's "Feliz Navidad."
Mayor Juan Carlos Bermudez will be in attendance to commemorate the inaugural event, as well as a slew of locals onsite to watch the lighting of the 30-foot tree.
With guests, friends, and neighbors strolling around the plaza, it will surely be an enjoyable evening, taking in CityPlace Doral's festive décor and amazing outdoor-indoor ambiance. It's also likely to be a good opportunity for folks to start their holiday shopping at boutiques like Tarbay, Seta Apparel, and Fitness Hub, as well as dine at the diverse collection of restaurants on the property including Angelo Elia Pizza, Bar and Tapas, Cabo Flats, Brimstone Woodfire Grill, and City Works Eatery & Pour House.
CityPlace Doral is shaping up to be the perfect place for the holidays.
PERFORMANCE DETAILS:
Saturday, November 18
4 p.m. – 7 p.m. Performances by local dance troupes and the dancing fountain
7 p.m. – 8 p.m. "Holiday Fiesta" performance by Dance South Florida & Tree Lighting
8 p.m. – 11 p.m. Live Entertainment by Flavio Amador & The Playtime Band