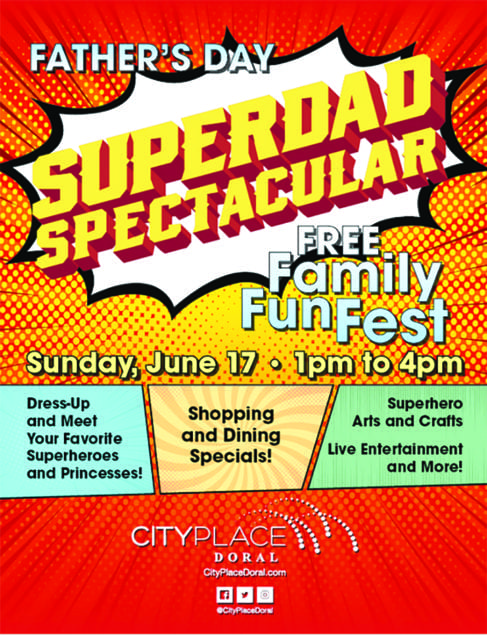 CityPlace Doral celebrates its second-annual Father's Day celebration, June 17 from 1 to 4 p.m., with a wide range of superhero characters and princesses, dressed to deliver unmatched experiences that will surprise and delight visitors.
Tied to the "Incredibles 2" movie premiere at CinéBistro, the afternoon will consist of wide variety of superhero-themed activities on the main entertainment plaza, including arts and crafts booths, hero meet-n-greets, balloon artists, face painters, and giveaways.
Hourly fountain displays and live music at the center point of CityPlace, will entertain guests throughout the afternoon.
Considered South Florida's premiere lifestyle and entertainment destination, CityPlace Doral offers shopping, lifestyle, dining, and entertainment. Guests can also enjoy an indoor and outdoor ambience as they browse through 250,000-square-feet of retail space.
Father's Day discounts and deals will be offered by tenants including Kings Dining and Entertainment, offering pin painting for the kids, VIP-lane packages, and new food and beverage features.
CinéBistro is also offering special featured menu items to celebrate the highly-anticipated, "Incredibles 2."
About CityPlace Doral:
Developed by The Related Group, CityPlace Doral is a mixed-use complex with more than 40 dining, shopping, and entertainment destinations, as well as 700 luxury residences.
Designed by the global architecture firm Arquitectonica, other CityPlace Doral tenants include the newly-opened Martini Bar, Agua Bendita, Venetian Nail Spa, Seta Apparel, American Soul, Ella Boutique, Indesign & Flowers, Angelo Elia Pizza Bar & Tapas, Brimstone Woodfire Grill, Le Macaron, BurgerFi, Cabo Flats Cantina & Tequila Bar, City Works Eatery & Pour House, Cooper's Hawk Winery & Restaurant, Le Macaron, Salsa Fiesta Grill, Vapiano, The Fresh Market, Fitness Hub, Tarbay, City & Co., Sloan's Ice Cream, and 4D Gelateria.
CityPlace Doral's Entertainment Plaza is located at 8300 NW 36th St, Doral, FL 33166. For information, visit http://www.cityplacedoral.com/.