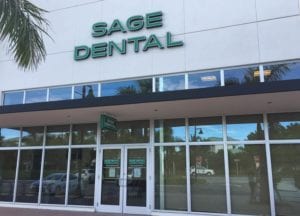 Florida-based dental care company, Sage Dental, continues to expand its dental group by adding its 47th dental practice in Florida, located in The Shops at Downtown Doral off of 87th Avenue and NW 53rd Street in Doral. The goal of this new office is to further provide the residents of Downtown Doral area with the high quality oral healthcare services that Sage Dental is known for.
Sage Dental of Downtown Doral is conveniently located at 5335 NW 87th Ave. Suite C103, Doral, Florida 33178. This brand-new dental facility features state-of-the-art equipment, offering patients the latest in dental technology and a full range of treatment options to meet the individual needs of each patient. Sage Dental of Downtown Doral is offering reasonable and affordable treatment options as well as new patient packages. The new facility will offer general and cosmetic dentistry.
"We are excited to expand our footprint into the city of Doral" said Dr. Tony Cruz, Regional Dental Director of Sage Dental. "Our philosophical belief of providing quality care in a convenient and affordable fashion will provide a great value to the many families and businesses."
The Sage Dental of Downtown Doral team consists of:
Dr. Joaquin Camejo IV, General Dentist
Ayleen Cirion, Registered Dental Hygienist
Suhey Rojas, Patient Coordinator
Yilian Leon, Dental Assistant
Maria Casanova, Dental Assistant
We are very excited to continue our growth strategy into Downtown Doral. Our past and current leaders provide the very best of care and service as the leading Dental Service Organization in South Florida that will continue through to central Florida and beyond.
Sage Dental of Downtown Doral is now scheduling appointments and accepting new patients. To schedule an appointment with this brand new location, call 1-877-959-4414 or go to https://www.mysagedental.com/office/downtown-doral/
Starting Tuesday, October 4th, 2016, this brand-new office will be open 4.5 days a week treating patients Tuesday – Friday and every other Saturday from 8 am-5 pm, and closed on Monday.
Sage Dental joins the family of retailers at Downtown Doral that include dining options Pisco y Nazca Ceviche Gastrobar, Robeks Juice, Bulla Gastrobar, Giardino Gourmet Salads, and Dragonfly Izakaya & Fish Market. Retail shops including Fortune International Realty, The Ballet Boutique and Skyros Sport have also opened up.
About Sage Dental
Founded in 1997 and having treated over 450,000 patients, Sage Dental is the leading provider of dental health services in South Florida offering cosmetic, preventive, general, and reconstructive and specialty dentistry. Sage Dental has over 45 convenient locations throughout South Florida, the Treasure Coast and Central Florida equipped to serve all of your dental needs. Whether you are looking for a General Dentist or a Specialist such as an Orthodontist, Oral Surgeon, Endodontist, Periodontist or a Pediatric Dentist, Sage Dental does it all.
About Downtown Doral
Downtown Doral is a walkable, bike-friendly urban core in the newly incorporated City of Doral, Fla. that has transformed a decades-old office park into the heart of the fastest growing city in the United States. Complete with more than 70 retail stores and restaurants; more than one million square feet of commercial space; 400,000 square feet of Class A office space; 2,840 residential units; a charter elementary school; and public green spaces with a monumental sculpture, Micco, by world-renowned artist Michele Oka Doner and an entry sculpture from internationally recognized sculptor John Henry, Downtown Doral is now a thriving "live, work, learn, play" city center.