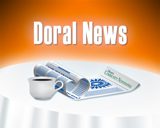 Freshii,a Canadian health casual restaurant, is planning a spring opening at the food court in Doral's International Mall, designed to energize 'people on the go'.
With a variety of salads,wraps, bowls, burritos, juices, smoothies and frozen yogurt.
The brand was founded in Toronto by Matthew Corrin in 2003,to eliminate the excuse that people cannot access convenient or affordable food options.
Freshii features innovative menu items such as kale salads, wraps made of collard greens, grain bowls based with quinoa, gourmet in-house dressings, hormone-free chicken and fresh pressed juices and smoothies, including build-your-own items.
Popular menu selections include Pangoa: a hearty grain bowl topped with avocado, aged cheddar, black beans, corn, cherry tomatoes, cilantro and a fiery barbeque sauce; Metaboost Salad, a blend of field greens, spinach, kale mangoes, carrots, edamame, almonds, goat cheese and balsamic vinaigrette.
In January 2015, Freshii launched its "Juice Cleanse" program, providing daily options that detoxify and energize body systems with four fresh-pressed juices and one detoxifying salad per day. Most recently, Freshii launched its Gourmet Tuna with Greek Yogurt as an alternative to mayonnaise.
Freshii restaurants now number 150 locations in Toronto, Vancouver, Miami, Chicago, Los Angeles, Huston, Dubai, Vienna, Saudi Arabia, Guatemala and more than 60 additional cities and 12 countries worldwide.