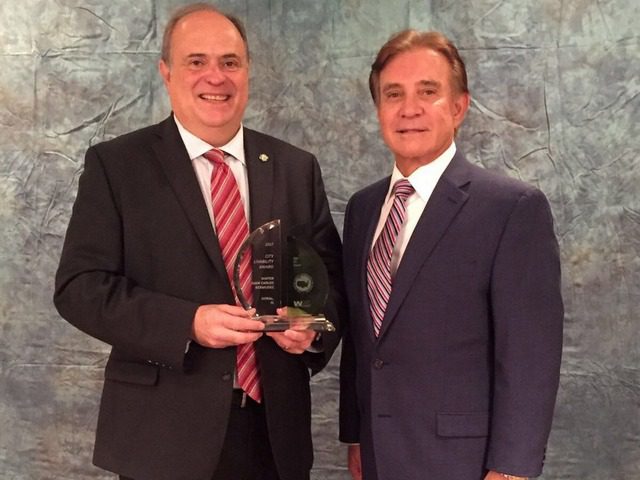 Mayor Juan Carlos Bermudez just received the Outstanding Achievement award (populations 100,000 and below) for the "Get Fit Doral" program at the 2017 City Livability Awards Program during the U.S. Conference of Mayors' 85th Annual Meeting in Miami Beach.
The award recognizes mayoral leadership in developing and implementing programs that improve the quality of life in America's cities, focusing on the leadership, creativity, and innovation demonstrated by the mayors.
"I created this program in 2006, as a citywide initiative to promote health & wellness and encourage healthy living amongst residents and businesses in the City," said Mayor Juan Carlos Bermudez.
"I am proud that more than 10 years later, 'Get Fit Doral' continues to improve the lives of our residents," he continued, "giving way to other ambitious initiatives like the 'Step Up, Doral' program I just kicked off, in which together we'll work to become the City of a Billion steps."
The goal of "Get Fit Doral" is to create awareness of health-related issues that affect the community and provide a series of programs and events that consist of screenings, seminars, lectures, classes, sports programs and activities to educate and promote a healthy lifestyle for the Doral community.
Additionally, this program focuses on improving access to healthy food, increasing opportunities for physical activity, decreasing tobacco consumption, increasing awareness, and educating the public.
For program descriptions for the Outstanding Achievement award programs please go to: https://www.usmayors.org/city-livability/.