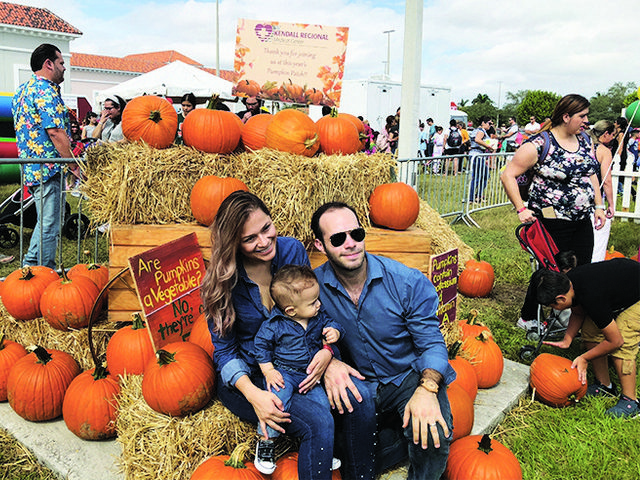 With nearly 6,000 attendees, Kendall Regional Medical Center's sixth annual Pumpkin Patch Party was a huge success as the award-winning 417-bed hospital welcomed children and families of the community to enjoy a safe and festive day.
Costumed kids had an opportunity to decorate pumpkins, get their little faces painted, bounce around in inflatables, ride ponies, and much more. Families were able to watch their little ones while savoring delicious food, drinks, and treats – for free.
Kendall Regional Medical Center's Teddy Bear Clinic also gave children the chance to bring their teddy bears in for a check-up, which included a health report and an x-ray they got to take home.
Attendees were also given coupons for a free ice cream and a gift when visiting Kendall Regional Medical Center's new Town & Country Emergency Room on their way home. As happy children frolicked through the pumpkin patch and families watched joyfully, Kendall Regional Medical Center's Pumpkin Patch Party was a delight for all.
About Kendall Regional
Kendall Regional Medical Center, an award-winning 417-bed hospital, is recognized for providing a wide array of services to the residents of South Florida, as well as visitors from around the world. We offer 24-hour comprehensive medical, surgical and diagnostic services, including trauma and burn care, pediatrics and maternity services, an orthopedic and spine institute, along with patient and community services.
For over 40 years, we have been committed to expanding and improving every facet of the organization, devoting significant time and resources to enhancing the facility, staff and medical care. Kendall Regional Medical Center has grown into a major tertiary-care teaching facility, with an outstanding staff that includes more than 700 physicians and specialists and over 1,700 employees, all of whom place importance in making our patients feel welcome and comfortable.
The main campus of Kendall Regional Medical Center is located at 11750 SW 40 St., Miami, FL 33175. For information visit www.kendallmed.com or call 305-223-3000.