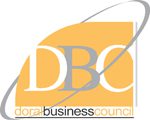 October is healthcare month. For the third consecutive year, the Doral Business Council is organizing a series of healthcare events to help members learn how to take better care of themselves.
The month will be kicked off with the Signature Breakfast on October 11, featuring Dr. Mark G. McKenney. Dr. McKenney is the Chief of Trauma Surgery at Kendall Regional Medical Center. The breakfast will be sponsored by Kendall Regional Medical Center.
As the keynote speaker at the DBC Signature Breakfast, Dr. McKenney will go over the benefits of having a trauma center in the surrounding area of Doral. Whether you are a business owner, resident, parent, you know that when it comes to an emergency…seconds count! This engaging and thought provoking presentation will leave DBC Signature attendees thinking about this most important topic.
On October 19, United HomeCare will host the monthly After Hours event. This is the monthly business card exchnge, which allows different DBC members to showcase their business while providing a venue for attendees to meet other business owners to help grow their businesses.
Later in the month, on October 22, Miami International Mall will host the DBC annual International Health Fair, sponsored by Baptist Health South Florida. The Fair will be held from 12:00 to 5:00 p.m. Members and non-members are invited to sponsor a table at the event. Tables pricing for members is $450.00, non-members inquire about special table sponsor/DBC membership bundle package specials, general admission is free.
To date, the following organizations have signed up for a table at the DBC International Health Fair:
• Kendall Regional Medcal Center
• 3 Med Health Insurance
• American Diabetes Association
• Palmetto Hospital
• Doral Imaging Institute
• Kendall Family Medicine Clinic
Finally, on October 26, The DBC Healthcare Committee will host the 3rd Annual Healthcare Roundtable at FIU. Panelist will discuss how Doral and Greater Miami compare on international healthcare. Panelists include: Rolando Aedo, CDME, Executive Vice President/Chief Marketing Officer of the Greater Miami Convention & Visitors Bureau; Alejandro Badia, M.D., F.A.C.S., Medical Director of Badia Hand to Shoulder Center & Founder of OrthoNOW Immediate Orthopaedic Care Center; Nancy Borkowski, PhD., DBA, CPA, FACHE, FHFMA, Clinical Associate Professor Director, Health Management Programs, Chapman Graduate School of Business at Florida International University. The presenting sponsor of the event is Hialeah Hospital and the supporting sponsor is FIU's Pino Global Entrepreneurship Center.
October promises to bring lots of interesting and useful health-related information. Mark your calendars for this informational events. Please note, each DBC event has different fees for members and non-members, please check the DBC website at www.doralbusiness.com to register or for more information. You can also call the DBC office at 305-470-9597.