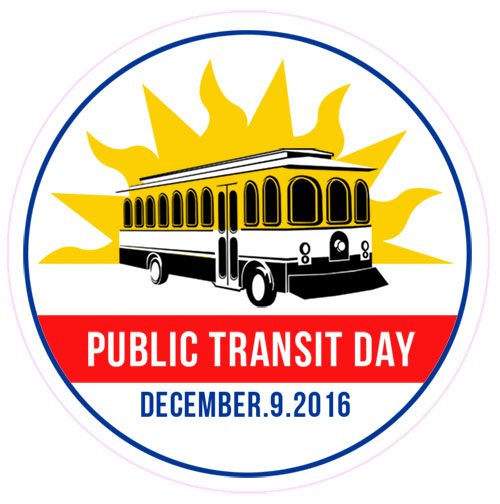 This December 9th ditch your car (for a day) and participate in Public Transit Day. This multi-county initiative, from two social-entrepreneurs, Rebecca Fishman Lipsey of Radical Partners and Marta Viciedo of Urban Impact Lab, urges public officials, community leaders, and residents to take the pledge to use public transportation for the day.
In Doral, every rider of the FREE Doral Trolley will receive a "Public Transit Day!" sticker, redeemable for a 10% discount at participating businesses. Riders can also enter a Twitter raffle for a $50 gift certificate at premiere eateries Bulla and Pisco y Nazca by tweeting a selfie wearing their Public Transit Day sticker while riding public transit to #DoralPublicTransitDay.  A list of businesses in Doral supporting Public Transit Day can be found here. https://www.cityofdoral.com/businesses/public-transit-day-participants/
"This day is about raising awareness about the many public transit options available and engaging our residents and visitors that haven't experienced the convenience of public transit," said Dr. Joan Shen, Transportation Advisor to the City Manager.
Public Transit Day is being co-hosted by local organizations and businesses committed to improving South Florida's public transit system. Everyone is encouraged to share about their riding experience using #PublicTransitDay and to follow social media posts through Twitter (@MIATransitDay), Instagram (miatransitday) and Facebook (the 100 Great Ideas page).
Already building a groundswell of support from transportation experts, Fishman-Lipsey and Viciedo are working with Alice Bravo, Director of Miami Dade County's Department of Transportations and Public Works, and Lyft, who will have a special offer that day for new users (use promo code MIATRANSITDAY to receive $5 off each of 10 rides in a two-week period). The Miami Foundation is the lead sponsor for the event, and Ride2MD and the Miami Center for Architecture and Design are core supporters as well.