In 2018, the City Council unanimously voted to put out a referendum so that Doral voters could decide if they wanted to invest in parks. The decision was left to the residents and the majority of residents said "YES" to improving and building parks and recreational facilities! Several projects have been completed already for the enjoyment of the community with others currently in the works. Learn more!
Morgan Levy Park Improvements
This project included the removal and replacement of existing flooring, new millwork, painting and the addition of a grease interceptor. The addition of ADA accessible routes to the picnic areas, and transitioning to high-efficiency LED fixtures in the parking area as well as adding and enhancing security cameras.
KEY BENEFITS
More security cameras
ADA Accessible routes to picnic BBQs
Transitioned to high efficiency LED light fixtures
Doral Meadow Park Improvements
The project included enclosing the existing outdoor patio space to provide 800 square feet of indoor recreation area with a new HVAC system. In addition, the existing building renovation included a high-tech conference room, a kitchenette, façade treatments, green walls, an indoor trophy case, modernized bathrooms and a multi-purpose outdoor plaza.
KEY BENEFITS
Outfield Baseball Netting
New Multi-purpose Room
New Kitchenette
New Hallway Storage
Staff Office Conference Room
Large Storage Area
Maintenance/Storage Area
Men's Restroom
Women's Restroom
Trails & Tails Park Improvements
The project included the installation of additional light fixtures to increase security in the area, replacing existing fixtures, and the addition of lighting to the dog and play areas. The existing small and big dog play areas have had their fences repaired.
KEY BENEFITS
Increased year around access by adding site-lighting in the entire park facility
Fixed fencing in the dog areas
Doral White Course Park
(BRAND NEW)
This Park is located at 8429 NW 41st Street in Doral, FL. This new park includes a shaded playground, outdoor fitness stations, a multi- purpose green space area, fenced-off dog area, restrooms, and shelters. The park includes landscape lighting with general overhead and walkway lighting and security cameras. It also features a boardwalk that connects this park to the Downtown Doral area.
KEY BENEFITS
Putting Green Picnic
Shelters
Shaded Playground
Shaded Seating Areas
Outdoor Fitness Plaza
Waterfront Events Plaza
Fenced Off-Leash Dog Area
Multi-Purpose Greenspace
Restroom
Boardwalk to Downtown Doral Parking Lot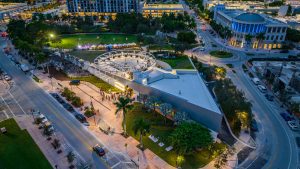 Doral Cultural Arts Center
(BRAND NEW)
This is the first dedicated, cultural arts facility in all of the City and is located adjacent to Downtown Doral Park. It serves to celebrate the unique culture of Doral, as well as the variety of cultures, arts, and experiences embraced by the city's residents. It will be the hub of cultural and performing arts in Doral, and will be supported by satellite programming locations at both Doral Central Park and Doral Legacy Park.
KEY FEATURES
9,000 square feet art and multipurpose rooms
Rooftop Terrace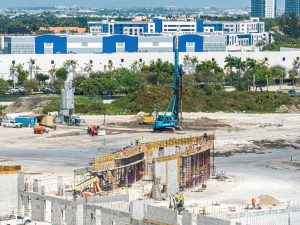 Bike Paths
(UNDER CONSTRUCTION)
The bike path system is currently being reassessed to honor the original intent, and properly expand with new bike paths in our community. This is important to continue promoting walkability and active lifestyle in our City, while also reallocating funds to light these paths for maximum safety.
Doral Central Park
(UNDER CONSTRUCTION)
Doral Central Park is located at 3000 NW 87th Avenue and is the flagship project of the Doral Parks Bond. This 78 acre park will be one of the largest parks in the region and include state- of-the-art amenities like an indoor recreational facility, and aquatics venue with a competition pool, practice swim pool, and recreational splash park area. Outdoor amenities will include walking paths, tennis, basketball, and volleyball courts, multi-purpose fields, picnic areas and pavilions, skate park and pump track and sensory playscape/nature area. Additional activities that will take advantage of the lake are a wetland trail, canoe/(remove) kayak/ paddle boat launch, lakefront trails, and a lakefront promenade. The park will have a multipurpose lawn to serve as the city's special-events hub with the addition of an open-air amphitheater.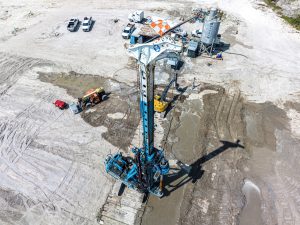 Phase 4 (the final phase) will be completed by the end of 2024. This phase contains all the surface parking lots, and vertical construction components – aquatic venue and indoor recreation building. Additionally, the hardscape and landscaping is more dense in this area of the site along with more intersecting underground utilities. Planning, coordination and sequencing of work will take more time. This opens up the amenities of the west portion of Doral Central Park.
Mayor Fraga, with the support of the City Council, is currently reaching out to partners like Miami-Dade College, Miami-Dade County and the state, to acquire funding that will help us bring this regional projects to fruition, without burdening our taxpayers.
For regular updates and news regarding the Doral Parks Bond, visit the City's social media, website (www.doralparksbond. org) and participate in the public workshops, coming to your community!
ABOUT US:
For more Miami community news, look no further than Miami Community Newspapers. This Miami online group of newspapers covers a variety of topics about the local community and beyond. Miami's Community Newspapers offers daily news, online resources, podcasts and other multimedia content to keep readers informed. With topics ranging from local news to community events, Miami's Community Newspapers is the ideal source for staying up to date with the latest news and happenings in the area. 
This family-owned media company publishes more than a dozen neighborhood publications, magazines, special sections on their websites, newsletters, as well as distributing them in print throughout Miami Dade County from Aventura, Sunny Isles Beach, Miami Beach, Coral Gables, Brickell, Coconut Grove, Pinecrest, South Miami, Kendall, Palmetto Bay, Cutler Bay and Homestead. Each online publication and print editions provide comprehensive coverage of local news, events, business updates, lifestyle features, and local initiatives within its respective community.
Additionally, the newspaper has exclusive Miami community podcasts, providing listeners with an in-depth look into Miami's culture. Whether you're looking for local Miami news, or podcasts, Miami's Community Newspapers has you covered. For more information, be sure to check out: https://communitynewspapers.com.
If you have any questions, feel free to email Michael@communitynewspapers.com or Grant@communitynewspapers.com.