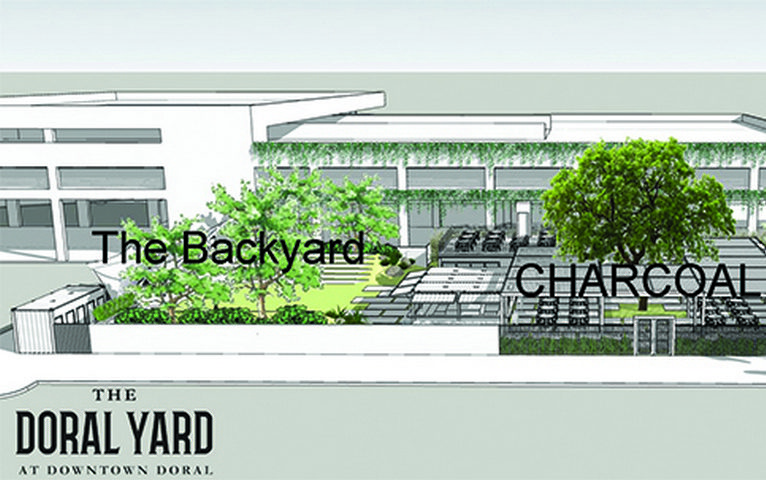 Armando Codina and Ana-Marie Codina Barlick, developers of Downtown Doral, are bringing a little bit of Wynwood west with The Doral Yard—a new community gathering concept created by Della Heiman and Ken Lyon of Yard Hospitality, and Joseph Furst of the Wynwood Business Improvement District. The Doral Yard at Downtown Doral is scheduled to open in Spring 2019.
"As landlord and property manager we understand the value of place-making and attracting partners known for providing an elevated customer experience," said Ana-Marie Codina Barlick, CEO of Codina Partners. "At our corporate headquarters at 2020 Salzedo St. in downtown Coral Gables, we secured the recently crowned 'Best Pastry Chef in the World' Antonio Bachour with Bachour restaurant and bakery that will soon debut.
Codina Barlick notes that Downtown Doral was missing a retail concept that bridges food, working, and art all in one place – and now, The Doral Yard will be just that.
"We had been tracking Wynwood Yard's success as a hub for food, art, and community engagement, as well as admired Joe Furst's work in helping to transform Wynwood into the desirable arts district it is today," she continued. "They are the ideal partners to bring that particular offering to life in our growing community."
The Doral Yard at Downtown Doral will be a 20,000-square-foot space divided into three zones: The Hub, CHARCOAL garden bar + grill, and The Backyard.
"We look forward to making our mark on the Doral community with a food, culture, and round-the-clock activities at The Doral Yard," said Heiman. "True to our Wynwood Yard traditions, we will host about ten free events each week when we open The Doral Yard."
THE HUB
At 5,000 square feet, The Hall will house an indoor micro food hall with a co-working café and three local food concepts, including a della bowls. A full-service bar will serve cocktails, beer, wine, coffee, juices, and more. The space will also be available for large meetings, events, workshops, classes, and gatherings.
"Creating compelling communities requires differentiated content and offerings," added Furst. "I believe our team will deliver one of the most exciting food, beverage, and entertainment venues in Miami-Dade County. The Codinas' work in Downtown Doral is nothing short of extraordinary, and I am excited to play a role in its growth."
CHARCOAL
Housed in a group of refurbished shipping containers is CHARCOAL garden bar + grill, the full-service restaurant that originally launched at The Wynwood Yard and offers a selection of responsibly-sourced meats and vegetables grilled over a charcoal-fired Spanish Josper grill.
CHARCOAL garden bar + grill specializes in hormone- and antibiotic-free pastured chickens, Berkshire hogs, and grass-fed lamb and beef from small family Florida farms. The seafood is based on North Atlantic stocks; from Florida to Canada. The globally-inspired sauces and condiments are made in-house from scratch.
CHARCOAL garden bar + grill' grilled dishes pay homage to an earlier, "pre-cuisine" period of mankind: cooking over pure charcoal is a basic, primitive, analog technique that allows the quality ingredients to speak for themselves.
THE BACKYARD
The Backyard is a 5,000-square foot, partially-covered, outdoor entertainment and culinary area adorned with trees and greenery at all sides to create a living stadium. This will be the space for families, residents and visitors to sit, dance, and enjoy live music and other cultural performances.
With The Doral Yard, the crafted a concept that not only reflects and complements the Doral community, but also will help the community thrive. This will be an elevated experience, specifically created for the Doral market.
The Doral Yard will be located at the northeast corner of Main Street and Paseo Boulevard in Downtown Doral. Architect Eduardo Pardo-Fernandez designed The Doral Yard. CHARCOAL garden bar + grill will feature a modified shipping container design by Little River Box Company.
For information on The Doral Yard, visit www.thedoralyard.com.
About Downtown Doral
The 250-acre mixed-use development features the shops at Downtown Doral: 70 shops and restaurants; the offices at Downtown Doral, a bustling business district with almost one million square feet of Class-A office space; and 5,000 luxurious residential units including 5350 Park condo tower and Canarias in The Residences at Downtown Doral, Downtown Doral Charter Elementary School, Downtown Doral Charter Upper School (under construction), Doral Government Center, and public green spaces adorned with world-class art pieces.
Learn more at www.downtowndoral.com or follow @DowntownDoral on Facebook and Twitter and @DowntownDoralLife on Instagram.