ST. STEPHENS ART SHOW FEATURES HIDDEN BEAUTY
February 11, 2013 @ 8:00 am

-

5:00 pm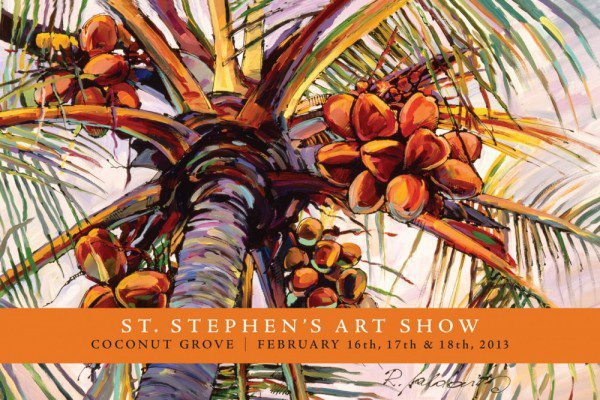 After 24 years, the highly anticipated St. Stephen's Art Show (SSAS) will open doors on the three-day festival, Saturday February 16th through Monday February 18th with 160 artists This years poster by Rasa Saldaitas was chosen for its magnificent texture and the artists message that beauty is in the everyday.
"This show surprised me with such delight when it chose this piece," said artist Rasa Saldaitas. "This piece was truly inspired by the same kind of magical canopy that covers the St. Stephens grounds and Coconut Grove" Saldaitas added.
At the poster unveiling Saldaitas was brought to tears by the emotion, passion and support of the St. Stephens Volunteers, patrons and the public guests who marveled at the work. While the show exhibits artists from as far as England and Asia and as close as Miami Saldaitas will be one of the over 75% who are from outside of Miami proper. For almost 24 years a few artists have passed the blind jury as many as 13 times while others heard about the show across the country and will be first timers during the Art Show Weekend in Coconut Grove. The mixture is a magical blend to delight the public and private art purveyors alike.
"Our theme for the art show is 'Art is in the Heart,' and this year's show exemplifies that," says Daisy Lewis, Show Director. "While artists from around the country will again show their brilliance during this amazing art festival weekend, the featured artist will resonate with the locals exceptionally" adds Lewis.
####
The big event, The St. Stephens Art Show, is presented annually by St. Stephen's Episcopal Church, a 100 year resident in Coconut Grove. Known as one of South Florida's most popular outdoor art festivals, the St. Stephen's Art Show drives in a crowd of over thousands of art spectators from all over the country and serves as a non-profit event which funds over a dozen outreach programs in Miami. Ranked top in the country by Sunshine Artist Magazine, its proceeds allow the church to offer a range of cultural, spiritual and entertainment activities to the Coconut Grove community and its' neighbors. This year's festivities at the show will feature hundreds of up-and-coming artists from across the nation, including loyal performers that have been accepted into the show for many years.
The art show will be open all three days from 9:30 am to 6:00 pm, it hosts an international food court, children's activity area, an authentic English tea room and musical entertainment, all on the shady campus of St. Stephen's Episcopal Church and School. The St. Stephen's Art Show is an event not to be missed. For additional information, visit www.artshowss.org.