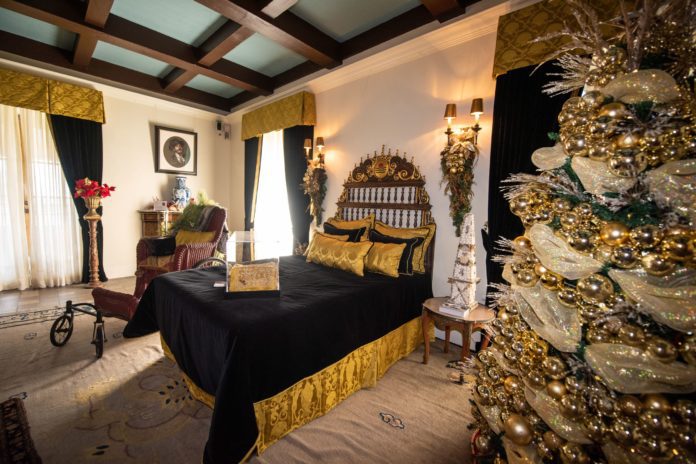 This holiday season, the Deering Estate embraces the season and continues its celebration of the Stone House's 100th anniversary by taking us back to the glitz and glamour of the early twentieth century. Taking cues from the cultural explosion of jazz and film that blossomed at the time, the interior decorations of the houses will celebrate the magnetism and excitement of the decade. The rooms of the Stone House and the Richmond Cottage will be decorated as they would have been during the 1920s. This year, the Richmond Cottage dining room will be dressed and adorned with elegant holiday details and set in the fashion of a celebratory dinner to ring in the holiday season as it could have during the time of the Deering's residence. The Stone House library will toast the rise of the Golden Age of cinema with accents and decor that capture the magic and splendor of vintage Hollywood.  
Guests are invited to experience a daytime visit to the Deering Estate this holiday season. The Deering Estate's holiday decor includes over a dozen holiday trees, from the grand 17-foot tree in the great hall to others throughout the historic houses that will be lavishly decorated to accentuate the architectural details and fine furnishings of the historic structures. Each room is thoughtfully designed and dressed by a cadre of award-winning professional interior designers, led by Deering Estate Designer in Residence, Alfredo Brito.
A special thanks to the following designers and volunteers who donated their time and services for this year's holiday decorating effort:
Richmond Cottage & Stone House library – Alfredo Brito, Alfredo Brito Interiors

Richmond Cottage kitchen – Alfredo Brito in collaboration with Williams-Sonoma, Gulfstream Park

Mr. Deering's study – Fanny Mesa, Drapes by Fanny Design

Mrs. Deering's bedroom – Rosalba Calvo, L'Excellence Design

Mr. Deering's bedroom – Roman Miguel Garcia, The Carpet Boutique

Stone House great hall & Richmond Cottage Film and Visiting Scholar Rooms – 100 Ladies of Deering

Stone House second-floor landing & staircase – Pottery Barn, Miami Beach in collaboration with Marina Bargouti

Prohibition wine cellar – Fanntastic Concepts by Fanny Mesa,

Richmond Cottage back porch – Palmetto Bay Garden Club

Stone House front porch & entrance hall washroom – Pinecrest Garden Club
In addition to the holiday decor, visitors will also find new permanent features of the estate's historical furnishing plan. Complementing the restored historic paint scheme and recently acquired antique furniture pieces, several rooms are now dressed in new textiles, including drapes and bedding for the Deerings' bedrooms. These custom designs, fashioned to replicate the rich, embellished layers described in the historic homes' 1920's inventories, give the rooms a luxurious Old World elegance not seen since the Deering's family days at Cutler.
The Historic Holiday Décor is on display daily, from November 25, 2022 to January 6, 2023, between 10 a.m. and 4 p.m. Viewing is free with the estate admission cost of $15 for adults and $7 for children ages 4-14. Admission is free for Deering Estate Foundation Members and children under 4 years old. Become a member of the Deering Estate Foundation today! Gift a membership to family and friends this holiday season! Please note that the Deering Estate will be closed on December 25.
Deering Estate is offering a "buy one, give one" holiday promotion. Buy one adult general admission ticket when visiting during December and receive one general admission gift pass to use at a future date, for yourself or a guest. General admission gift passes expire on January 31, 2023. 
For more information on the holiday season of events at the Deering Estate, including the holiday evening strolls, please visit the estate's website. 
About Alfredo Brito, Deering Estate Designer in Residence
Alfredo Brito is a renowned Cuban-American interior designer with more than 34 years of experience, who has been honored with numerous and important awards. 
 
Mr. Brito carries on the tradition of creating elegant interiors at his design firm located in Miami Florida where he focuses on residential and commercial interior design. He also specializes in showroom design for fine furniture's companies, including the creation of spectacular store windows in great cities such as Buenos Aires, New York and Madrid. In all his interior designs to date, refinement and contemporary sophistication are strongly defined, focusing on quality and comfort.

About the Deering Estate
The Deering Estate is a 21st Century house museum, cultural and ecological field station, and a national landmark listed on the National Register of Historic Places, owned by the State of Florida, and managed by Miami-Dade County Parks, Recreation and Open Spaces Department. The Deering Estate is located at 16701 SW 72 Ave. in Miami. 

About the Deering Estate Foundation
For those who treasure the Deering Estate, who advocate for its preservation and wish to invest in its future, the Deering Estate Foundation provides opportunities for individuals and corporations alike to partake in membership, signature events, and one-of-a-kind experiences, all in service of providing vital funding and support to the Deering Estate. Established in 1989, The Deering Estate Foundation, Inc. is a community-based charitable 501(c) 3 Florida Corporation and the philanthropic partner of the Deering Estate.