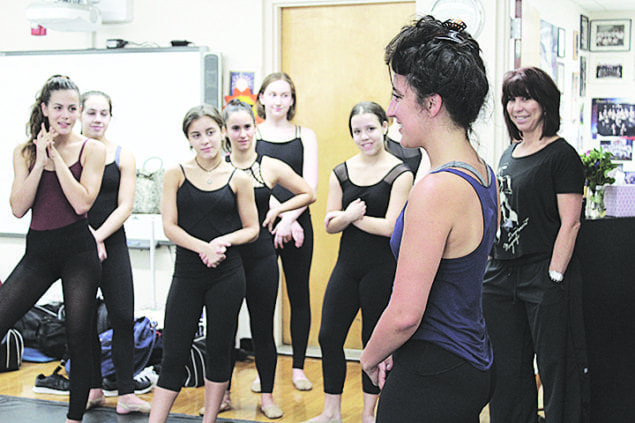 Gulliver alumnus Natalie Caruncho (Class of 2004) returned to campus recently to host an audition workshop with the Gulliver Prep Dance Program.
Caruncho is the associate choreographer and a cast member in the hit Broadway musical On Your Feet! Her mother, Gerri Barreras, is the dance teacher at Gulliver Prep.
On Your Feet!, which recently concluded production in New York City, illustrates the story of Miami natives Gloria and Emilio Estefan, who believed in their talent — and each other — and became an international sensation. On Your Feet! features some of the most iconic songs of the past quarter century, including Rhythm is Gonna Get You, Conga, Get On Your Feet, Don't Want To Lose You Now, 1-2-3 and Coming Out of the Dark.
During the October 10 audition workshop, Caruncho taught a dance combination to the song Mi Tierra, a sequence used in the actual Broadway audition for On Your Feet! Throughout the workshop and during a Q&A session, she spoke about her journey to Broadway, tips for a successful audition, the backstory of On Your Feet! and how her time at Gulliver prepared her for the career she dreamed of pursuing.
"It was really cool to see how the process of an audition actually works," said Nikki Hurtado, senior Sundancers Dance Team member. "To see an alum like Natalie accomplish her dream and for her to be able to share that experience with us was special. It was fun — the choreography, the music, the style — and I think it really broadened our ideas on dance," she added.
"This [Gulliver] is where my dreams started to become a reality," Caruncho said. "I grew up in the music and dance rooms and it's a really special place to me. I always remember people that came back and taught me things and the wisdom they imparted, so I'm glad to come back and be a part of that."
Caruncho is excited to be taking On Your Feet! on the road after being a part of the Original Broadway Company for nearly two years. Her resume includes: Broadway: On Your Feet! (Ensemble/Dance Captain). First National Tours: Flashdance (Dance Captain), In the Heights (Ensemble; u/s Nina, Vanessa, Carla). Regional: A Chorus Line (Diana), West Side Story (Francisca), and Romeo and Juliet (Juliet).
For more information about Gulliver, visit www.gulliverschools.org.