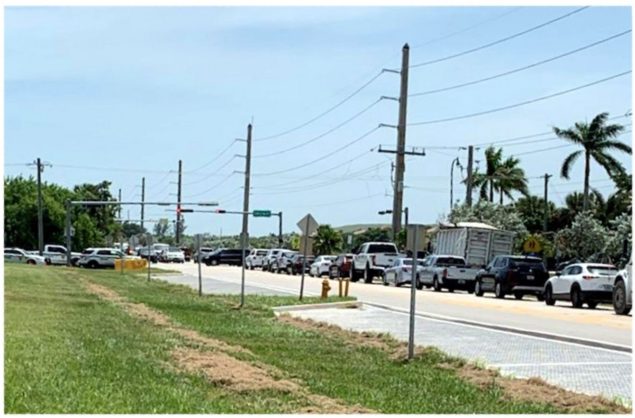 Last year the beginning of the school season happened in the midst of COVID-19 lockdowns. Most students began to attend classes virtually, via Zoom or similar technology.
This year, even with the pandemic continuing, students in Miami-Dade County started heading back to the classroom on Monday, Aug. 23.
Many parents and other drivers on SW 87th Avenue in Cutler Bay encountered long lines of cars that were slowed to a crawl between the hours of 7 and 8 a.m. and 2 to 4 p.m. daily, the times when parents drop off and pick up their children. Some parents, who did not wish to be named, strongly complained, describing it as a "major, major traffic jam."
There are four schools located along SW 87th Avenue in a one mile stretch: Centennial Middle School, with a total enrollment of 908 students; Cutler Bay Senior High School, with 470 students in grades 9-12; Whigham Elementary School, with 744 students in pre-K and grades K-5, and Mater Academy Bay School, a public charter school with 649 students grades K-5.
So with roughly 2,771 students being driven to school, several hundred teachers and staff, in addition to other drivers on the road at those times, traffic is extremely heavy on that two lane road.
Adding to this is the fact that at the southern end of 87th Avenue is Black Point Park and Marina, the largest public marina located in Miami and a part of the Miami-Dade Parks and Recreation Department. A county landfill is just west of the marina and is also reached by 87th Avenue, with trash trucks servicing it.
Cutler Bay town manager Raphael Casals addressed the back to school issue.
"First week is usually crazy until parents and school administrators adjust," Casals said.
"Our police department has been working closely with both Whigham Elementary and Mater Academy to adjust their internal circulations. We should see improvements on a daily basis."
SW 87th Avenue is a county road and school locations are determined by the county and the school board. To make the road wider to better accommodate the high level of traffic would require county approval.